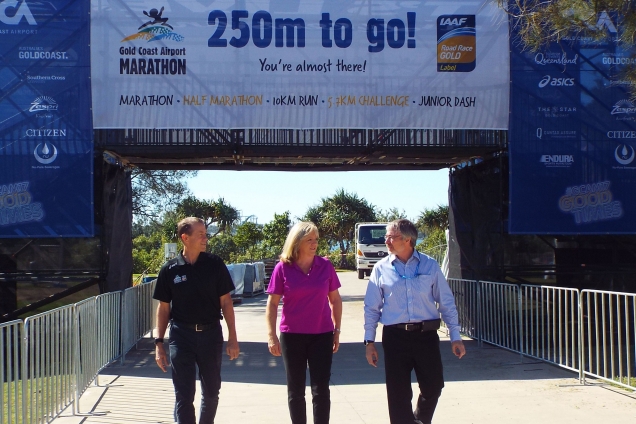 With the countdown well under way to this weekend's Gold Coast Airport Marathon, organisers are working hard behind the scenes to deliver world-class medical services to support the safe participation of the expected 27,000 runners.
Both on course and in the race precinct, there will be more than 130 medical personnel from a range of service providers led by Gold Coast Health to provide aid to participants.
The medical services on course will include 24 aid stations providing water, Endura Rehydration Performance Fuel as well as basic first aid supplies; support from Queensland Ambulance Service officers; and, St John Event Health Services volunteers on bicycles patrolling the course.
Approximately 350,000 cups of water and Endura are expected to be distributed to runners from the 24 aid stations along the course over the weekend.
At the race precinct, there will be a medical centre operated by the Gold Coast Health under the direction of Dr Brent Richards with support from two coordinators, 10 doctors and 13 nurses.
Dr Richards, the Event Medical Director for more than a decade, said that Gold Coast Health essentially provides a fully operational emergency department in the race precinct.
"We have around 25 bed spaces and a team equipped to manage the spectrum of presentations you'd see in a normal hospital emergency department – from fatigue, to falls, to asthma and dehydration," said Dr Richards.
"We've been involved in the marathon for over 15 years and particularly enjoy supporting an event that promotes an active and healthy lifestyle."
Also located in the race precinct will be a team of 15 physiotherapists as well as eight State Emergency Service volunteers and two St John Event Health Services volunteers providing first aid at the finish line.
The Nu-Pure Recovery Area will also be well stocked with fruit for participants to consume after they finish.
Over 2,000kg of bananas, 2,700kg oranges and 560kg of kiwifruit will help participants with their recovery after they complete their race.
Organisers also urge participants and spectators to be sun smart during the event by wearing sunscreen and hats and staying hydrated throughout the day.
The 39th annual Gold Coast Airport Marathon will be held this Saturday 1 and Sunday 2 July.
Set to attract more than 27,000 participants of all ages and abilities, this year's race program will feature the Gold Coast Airport Marathon over 42.2km, Wheelchair Marathon, ASICS Half Marathon, Southern Cross University 10km Run, The Star Gold Coast 5.7km Challenge, Zespri 4km Junior Dash and Zespri 2km Junior Dash.