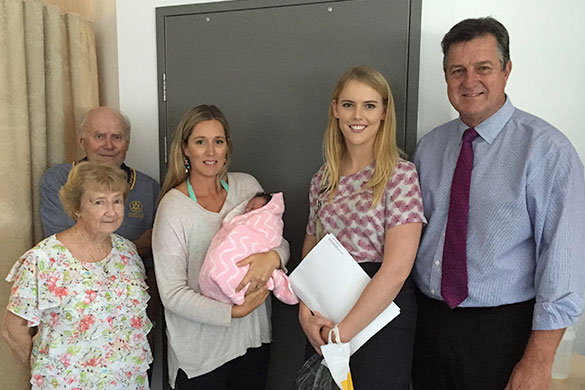 Gold Coast University Hospital maternity patients have once again received generous gifts as part of a partnership between two community organisations and Gold Coast Health.
For the fifth year in a row Rotary Runaway Bay and Paradise Point Community Bank (Bendigo Bank) have come bearing gifts for babies born on 23 February - the date Rotary International marks as its birthday.
Nursing and Midwifery Director Hazel Brittain said this year there were 19 babies born at Gold Coast University Hospital on 23 February.
"We do our best to make this a memorable time for each and every one of our families and these types of community partnerships can help parents feel extra special," she said.
Rotary members presented a cot blanket and Paradise Point Community Bank Senior Branch Manager gave 23 February newborns a contribution towards a savings account.
Rotary Runaway Bay secretary Bob Curtis said visiting GCUH the day after the milestone was something they looked forward to each year.
"It's rather charming to be involved and see the new families enjoying this special time in their lives," he said.
Rotary International this year marked its 111th birthday.