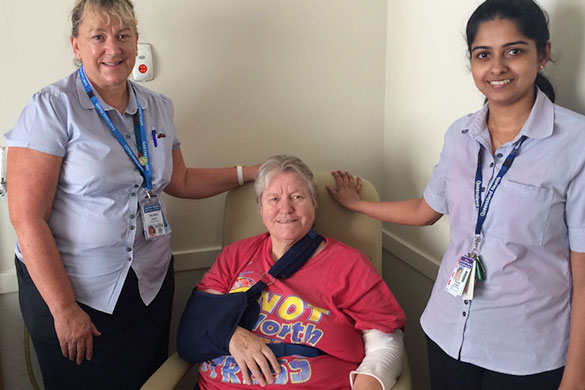 Carrara staff and patients are settling well into their home at Robina Hospital after a successful move on Wednesday.
Five vehicles safely transferred the 10 patients to their new ward on B1 thanks to the support of a dedicated multidisciplinary team.
NUM for Acute Care for the Elderly ward, Lorraine Millar said it was overall a smooth transition to Robina Hospital.
"We had a great multidisciplinary team that worked extremely well together for a safe and smooth transition," Lorraine said.
"The patients feel settled and are enjoying better service provision and a better choice of meals.
"It's great to be able to refer patients to onsite diagnostic and pathology services which will improve the patient journey greatly.
"The staff are a great team and are adapting well to life in their new home; they feel valued and have been embraced into the Robina family.
"Staff are currently being up skilled to have a more acute, elderly focus in line with the new model of care that will aim to improve the patient journey and get them back into the community quickly and safely."
Any remaining patients at Carrara will be transferred next week, with the ward opening to full capacity (28 beds) by next Wednesday 16 March.