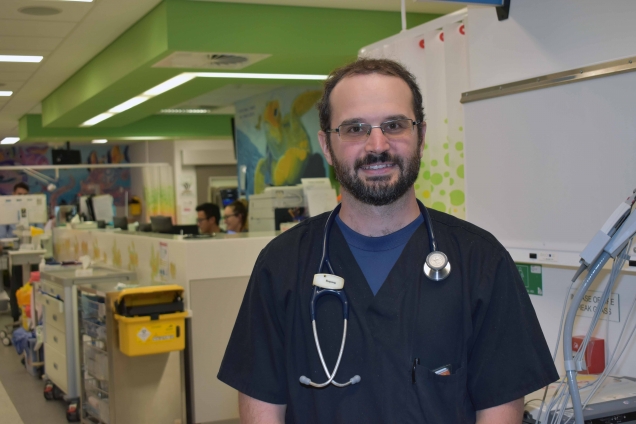 A Queensland Advancing Clinical Research Fellowship of almost $145,000 will help Dr Peter Snelling complete a research project which explores the benefits of point-of-care ultrasound for children with broken arms.
The dual-qualified emergency physician and paediatrician, and father-of-five, will spend about one day a week off the front line to compile data, analyse and write up a clinical trial titled 'Bedside Ultrasound Conducted in Kids with distal upper Limb fractures in the Emergency Department' (BUCKLED).
Results will be shared on the Sonar Group website, set up as part of Dr Snelling's PhD through Griffith University as a way to translate knowledge for fellow researchers and the general public.
Dr Snelling was one of 14 clinical researchers to share in almost $4 million funding awarded in round two of the program run by the Health Innovation, Investment and Research Office of Queensland Health.
Embedding research and evidence-based practice into health service delivery and patient care is one of the strategies our health service is using as we strive to deliver world-class care – always.
Dr Snelling, who has also received a $159,000 grant from Emergency Medicine Foundation for the clinical trial, encouraged his fellow clinicians and other health professionals contemplating research to get involved.
"Research can be overlooked as a career pathway but it is research that underpins what we do and why we do it. It does take meticulous work, but the rewards are worth it."