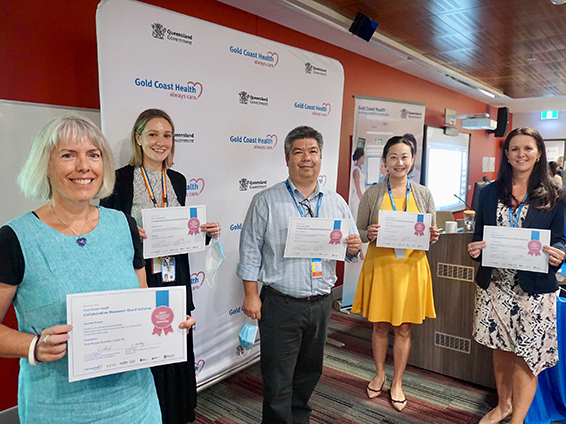 Today, more than $600,000 was awarded to Gold Coast Health clinicians and researchers dedicated to research that will improve the health outcomes of our patients.
Seven research projects were funded as part of the Gold Coast Health Collaborative Research Grant Scheme and received up to $100,000 towards their research.
Dr Jeremy Wellwood, the Executive Director of Medical Services, Clinical Governance, Education and Research at Gold Coast Health, said the level of excellence in the grant submissions showed the value of research in our organisation.
"We know engaging with research means improved outcomes for our patients. Impactful research will make a difference for our patients, their families and our entire community," he said.
Professor Andrea Marshall, Professor of Acute and Complex Care at Gold Coast Health and Griffith University, said each year the quality of the grant submissions showed the research excellence in our health service.
"Each year, we see an increase in the excellence of our research submissions. The highest quality research results in better outcomes for the patients, families and the community. Strong consumer contribution continues to be a key feature in successful grants. It's vital that recipients of health care have input into how we can improve outcomes which matter most to them," Professor Marshall said.
Successful research grant recipients include pilot studies and projects to:
Explore cultural and linguistic diversity (CALD) in the emergency department
Evaluate support tools and decision making between families and health professionals in the ICU
Understand predictors of sub-optimal breastfeeding and what could make a difference to outcomes
Understand patient perspectives on dignity in rehabilitation to improve patient satisfaction
Understand placental dysfunction outcomes with biochemical, cardiovascular and ultrasound markers
Develop and evaluate patient surveys for general surgical care.
The Research Grant Scheme winners were announced as part of the Gold Coast Health Research Showcase 29-30 November 2021.