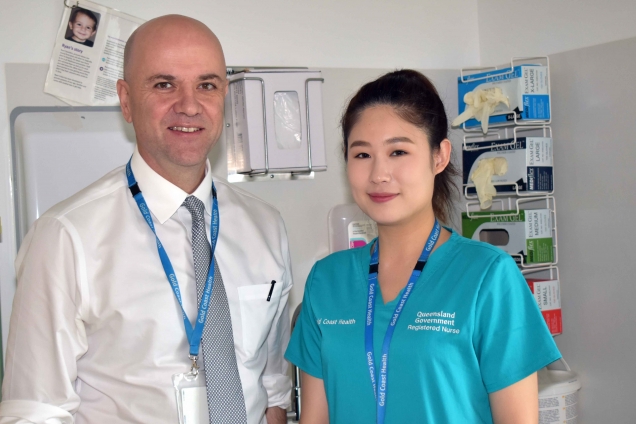 Catherine Li answered an SOS at the start of the coronavirus response which has proven vital to delivering quality patient care in challenging circumstances.
She left her post on the renal unit on the night shift of 29 January to work at the elbow of infectious diseases expert Dr John Gerrard, assisting with translating to and from Mandarin, identifying and treating a tour group of eight patients who were placed in isolation after one of their fellow travellers tested positive to coronavirus.
"Catherine's the unsung hero of the health service's early handling of the visitors," Dr Gerrard said.
"She was not only one of the most professional people I have ever worked with, she was calm, self-effacing and went well beyond what was asked of her.
"I needed someone urgently that could speak Mandarin and English as the patients were in isolation and none of them could speak English," Dr Gerrard said.
"Catherine was able to take control and settle the group, which included children, in an efficient and calm way, interpret for both myself and our team and did everything asked of her at a critical time."
Ms Li said it was what any nurse would do in that situation.
"It's teamwork. I could not have made the shift without Dr Gerrard, other medical officers and the staff working on D5N that night," she said.
Ms Li had a baptism of fire to working in infectious diseases - having to change into personal protective equipment about 30 times in one night-shift.
"While the patients were very nervous and exhausted, I was able to calm them by explaining everything in Mandarin and establish the family links in the group," she said.
"I helped the medical officers identified their identifications, complete the admissions, helped with respiratory swabs and some observations, and settled them into our hospital."
Now back working in Gold Coast University Hospital's Renal Unit, Ms Li said it was a night she won't forget.
Ms Li joined Gold Coast Health as a nurse graduate in 2016 after completing studies at Griffith University. She has been in Australia since 2009 and loves her work in the Renal Unit.
As part of its ongoing coronavirus response, Gold Coast Health has one interpreter on-site 24/7 providing both Mandarin and Cantonese language services to areas including the Fever Clinic, Emergency Department and the ward which housed the isolated patients.