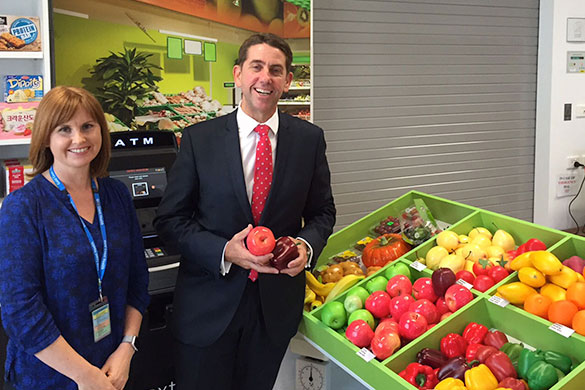 A $50,000 prize in a staff innovation competition has allowed Gold Coast University Hospital (GCUH) rehabilitation staff to create a life-like supermarket in their unit to help build a patient's confidence in everyday tasks before returning home.
The 'LIFE space' project, which also features a bedroom setting, outdoor garden and automatic teller machine, provides staff and patients with practical settings to incorporate real-world activities into their therapy.
The evidence-based approach to rehab was only possible after Occupational Therapists from the Rehabilitation team won a $50,000 grant in The Improvers, Gold Coast Health's annual event where staff compete for up to $280,000 to turn their bright ideas into reality.
Gold Coast Health Allied Health Lead and Occupational Therapist Sonya Shrimpton said the LIFE space, which officially opened this month, would play a key role in improving the quality of life and independence of patients.
"Improving a patient's confidence and ability in these types of tasks is critical, especially for someone who has experienced a major injury or illness and been in hospital for a prolonged period," she said.
"The latest research shows that enriched environments are very beneficial when it comes to rehabilitation and we are pleased the Improvers judges could appreciate the vision we had."
Health Minister Cameron Dick, who visited the LIFE space while at GCUH to judge the latest edition of The Improvers, said it was exciting to see the pitches of last year's event being turned into today's reality.
"The Improvers concept recognises that the people working on the frontline of our health service know what innovations will best benefit their patients," he said.
"In the case of the LIFE space, it is providing people on the road to recovery with a safe and controlled environment to practise the everyday tasks we take for granted – using an ATM or microwave, navigating a supermarket, engaging with a check-out operator.
"This unique concept will ease the transition from hospital to home and make a huge difference to the lives of Queenslanders."
During his visit, Mr Dick also took the opportunity to check on an Improvers innovation close to his heart – the revolutionary rehabilitation device he awarded a special Ministerial Award last year.
The Sensory-Motor Active Rehabilitation Training Arm (SMART arm) is a portable, non-robotic device that allows brain injury survivors with upper limb weakness the opportunity to regain functional use of their arm and hand.
When it initially failed to win the $100,000 prize category at last year's Improvers, Mr Dick brought the house down when he announced a special Ministerial Award to fund the initiative.
"I could see how this technology would help countless patients regain arm and hand use and it's exciting to see the impact it is having a year later," he said.
The Final of the 2016 Improvers was held at GCUH last week, with four grants awarded from $100,000 to $10,000, as well as a People's Choice Award up to $100,000. For a full list of the winners, visit https://www.health.qld.gov.au/goldcoasthealth/html/news/2016/160520-improvers.asp
Caption: Gold Coast Health Allied Health Lead Sonya Shrimpton gives Health Minister Cameron Dick a tour of Gold Coast University Hospital's new LIFE space.