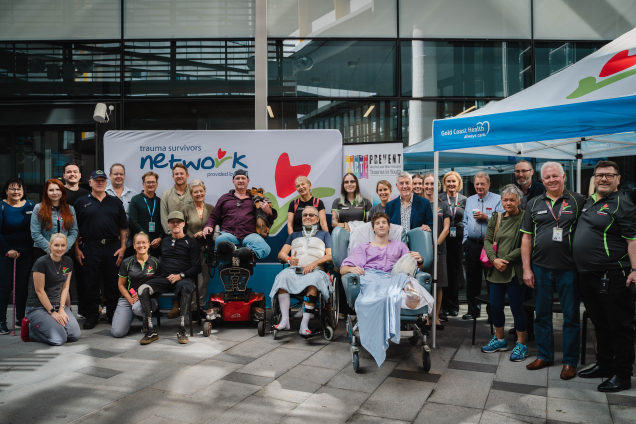 National Trauma Survivors Day (May 17) is a day for trauma survivors, their friends, family, clinicians and caregivers to celebrate trauma survivors' achievements in recovery.
Gold Coast Health's Trauma Survivors Network held a special celebration at Gold Coast University Hospital this week, where more than 60 people gathered to network and learn about the hospital's trauma service and its support mechanisms.
Four peer supporters and lived-experience volunteers welcomed 14 trauma survivors and inpatients to the event, supported by staff from multidisciplinary teams.
The goal of the Trauma Survivors Network (TSN) is to help survivors and their families connect with others and rebuild their lives.
Gold Coast Health trauma nurse navigator, Matthew Scott, said the free network embodies supporting survivors beyond discharge.
"Our robust Peer Support program continues to grow. Survivors are at the heart of the network and offer a ray of hope and some guidance through their journey," Matthew said.
"I am a nurse and have looked after trauma patients over the course of my career, and whilst I have significant experience in providing nursing care, I don't have the lived experience.
"That's why our volunteer's presence is extra special, and they engage with patients on a different level," he said.
As an accredited level 1 Trauma Centre, the Gold Coast Hospital University is a leading group for trauma care and prevention in Queensland.
The Gold Coast Trauma Service cares for some 350 major traumas and 2,000 minor trauma patients per year. The service also offers a preventative alcohol and risk-related trauma education program (P.A.R.T.Y.) for senior high-school students.
For more information about the Gold Coast Health Trauma Survivors Network call (+61) 7 5687 0231 or email GCH.Trauma.Service@health.qld.gov.au