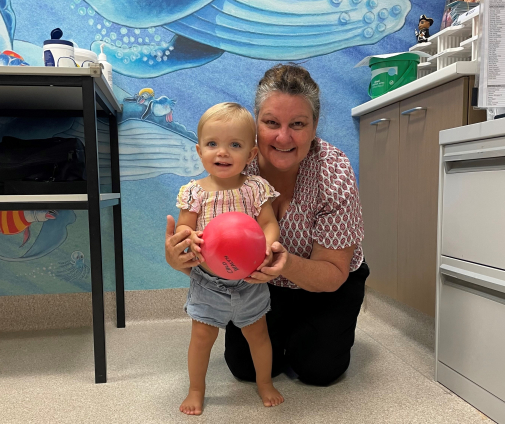 Ida is a Child and Family Health Nurse, who has worked in Community Child Health Services for eight years, first developed a passion for Child Health after attending a local clinic two decades ago as a new mum.
Community Child Health Services provides a range of free community health and support services for children and their parents or carers to give every child the best possible start in life. This includes parenting support, health promotion, early intervention and prevention services that may be offered in the home, or in community child health clinics or in local early years community centres.
Care is offered by an experienced team of child and family health nurses and early intervention clinicians (either social workers or psychologists) like Ida, who cares for parents and children from postnatal maternity care through to 5 years and 11 months.
She shares what inspired her to get into healthcare and what her typical day is like.
What does your day look like?
Some days I'm on the road visiting families at home, supporting the growth and development for children under the age of two. Other days, I'm in clinic facilitating key milestone assessments for children up to six-years-old as well as day stay, drop-in clinics and parent groups.
How did you end up in this role?
25 years ago, I attended a day stay at Labrador to get support with breastfeeding and I was so impressed with the level of care I was given, I went on to study a Child Health post graduate certificate.
What do you like most about your work?
Supporting families and building parental capacity and confidence. Building stronger families is a passion of mine as is keeping up to date with evidence-based resources.
What are your main responsibilities?
Early identification of developmental and health concerns. I provide education and support to families, so they are informed and better equipped in understanding their child's development and general health and wellbeing.
What's the one thing you want people to know about your role?
Early intervention leads to better health and wellbeing outcomes in the future and stronger communities.
What skills have you found vital to your job?
The ability to listen without judgement and support families with their specific needs.
Do you have a memorable patient outcome?
I had a mother come into day stay who was worried, not knowing what to do with a baby who wouldn't settle. After visiting the clinic for four-hours, we were able to give her the necessary tools to understand her baby's cues and establish good sleeping habits. Through our clinic we were able to continue to support her until her child was five years old, which included a pre-school developmental check.