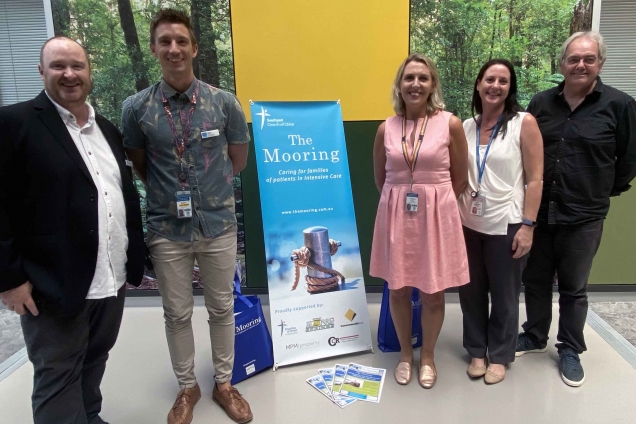 A successful community partnership is making a difference to hundreds of families as they deal with the stress of being away from home when they have a loved one in hospital with life-threatening illness or injury.
Gold Coast Health and The Mooring, a not-for-profit service coordinated through the Southport Church of Christ, link families of patients in Intensive Care Units with practical support such as accommodation, transport, meals, care packages and more.
The Mooring is a team of 30 trained volunteers who work with social workers at Gold Coast University Hospital to help out-of-town families deal with the unexpected complications of having a loved one suffer a life-threatening illness or injury.
Gold Coast Health Senior Social Worker Jed Shiels, who works in the Intensive Care Unit, said many families had benefitted from the partnership.
"The Mooring was incredibly helpful in supporting a partner and six-year-old daughter of a man admitted to ICU. They provided accommodation and interpreter support for the family.
"My job, of caring for the patient, was a lot easier especially once he was reassured that his family were also being looked after."
Since it was established in February 2015, The Mooring Director Bruce Murray said they had cared for 1200 individuals, provided more than 1000 meals, given more than 400 care packs and countless taxi or fuel vouchers.
"When I was 38, I had open heart surgery in Brisbane where we didn't know anybody. I thought about people like me who had to leave their environment in regional areas, at one of the most stressful times of their lives.
"It's like someone is on a life raft in a storm, just bobbing up and down and people are trying to paddle their way through and it's just really difficult," Mr Murray said.
"You need someone to hop onboard that life raft, and find somewhere to tie up alongside, like a bollard, or maybe a mooring. And the service started from there."
Churches of Christ Southport Reverend Steve Peach said The Mooring's focus was on the non-measurable aspects of human compassion.
"We can count how many days our units have been occupied, how many hours our people have volunteered and how many GoCards we've given out; however it's that pastoral care, the wrap-around support that makes the real difference," Mr Peach said.
Gold Coast Health's Senior Social Worker Lyndall Healey said The Mooring's compassionate approach perfectly complemented the world class clinical care inside the hospital.
"People don't expect heart. They expect medical treatment and then they get heart, and that's what The Mooring is all about.
"They say 'oh my gosh, someone's made me a home-made steak and kidney pie. That's comfort 101," Ms Healey said.
A 26-week pregnant Amie Chaplin was at breaking point when doctors told her she would be bed bound in GCUH until her twin boys arrived. The Gold Coast is two hours from her home town.
"I was torn away from my family, my other two boys were five and eight years old and I only saw them once a fortnight as this was all we could afford, and it was really hard being away and not knowing what was next," Amie said.
On the verge of self-discharging against medical advice, Amie's nurse phoned The Mooring Team Leader Hetty Laning who was able to set up Amie in an apartment near the hospital. It was big enough for Amie's family to come and stay weekends.
"When my big boys had to go home for school it became a sanctuary, under doctor's orders of total bed rest, I could wander, I could cook, I could watch tv, listen to music and relax," Amie said.
Amie's twin boys arrived safely 12 weeks later.
The Mooring is sustained by business support and donations from community members. Visit www.themooring.com.au.