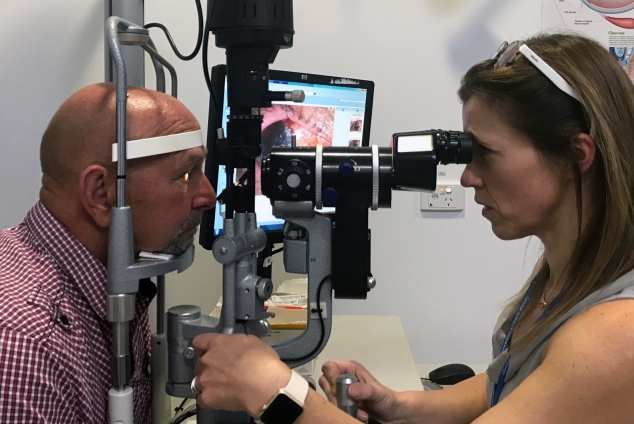 Doctors at Gold Coast University Hospital are warning home renovators to wear protective eyewear when using machinery to avoid major eye injuries.
The warning comes after two patients presented to Gold Coast University Hospital in just one week with serious eye trauma following incidents involving angle grinders.
Consultant Ophthalmologist Dr Heather Russell said a serious eye injury could be life changing.
In April, Rod Nance lost vision in his right eye after the blade of an angle grinder disintegrated, striking his face and cutting from his eyebrow down to his cheek bone.
"It went right across my eye and cut through the cornea from top to bottom," Mr Nance, a 71-year-old retired builder, said.
"I've been in the building industry for 50 years and I just didn't think.
"It's changed my life. When I got out of hospital I went home and put the guards back on the grinder. No one uses them because you can't see what you're doing, but I've told all my mates to keep them on."
The injury has forced Rod and his wife to put their caravan travel plans on hold, but he recently played his first game of golf since the accident.
Dr Russell performed micro surgery to save Rod's eye, but could not save his vision.
"The trend of DIY renovations means hundreds of people across the Gold Coast are using power tools such as angle grinders every day, so it is no longer just the tradies who are at risk," she said.
"In the same week Rod was injured, we also saw a young man injured when using a brush grinder. He felt something flick into his eye but thought that it had bounced off.
"A brush bristle had in fact passed straight through his cornea and into his lens, causing a cataract," Dr Russell said.
"Fortunately he has had a very good outcome once both the metal bristle and cataract were removed. As is most often the case, neither men were wearing protective eyewear at the time of their injury," she said.
Dr Russell said she would encourage all tradies, prospective DIYers and gardeners to wear appropriate protective eyewear.
"Safety goggles provide optimal safety, more so than safety glasses which often do not provide adequate protect from objects hitting the eye from an angle."