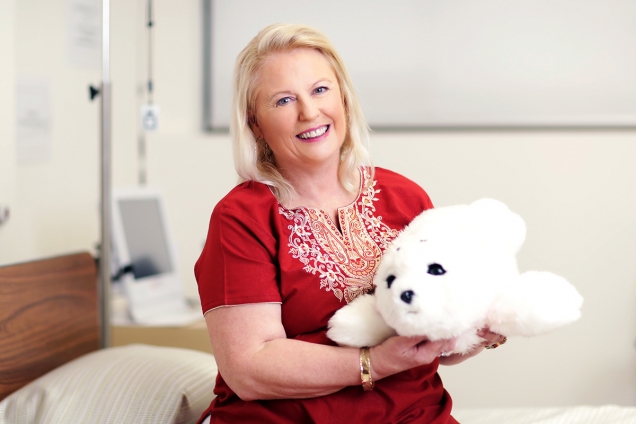 Gold Coast Health together with the Menzies Health Institute Queensland at Griffith University is inviting people with dementia, their families and caregivers, and aged care workers, to a public forum featuring leading researchers in dementia.
Griffith University's Professor Wendy Moyle will be one of four keynote speakers to present at the Dementia Caregiving and Technology Public Forum to be held on 28 November at Gold Coast University Hospital.
Professor Moyle will share research outcomes which showed robotic pet therapy can have positive benefits for people with dementia in long-term care, such as reduced anxiety and a decreased tendency to wander.
She led a study which used a robotic seal named Paro which can respond to touch, temperature and voice and can even learn its name.
"Researchers recruited 415 residents aged 60-plus and with a diagnosis of dementia, from across 28 long-term care facilities in South East Queensland," Professor Moyle said.
Some participants were given a plush toy and others were given Paro for three 15-minute non-facilitated sessions a week for 10 weeks.
"We found that Paro could bring positive benefits for people with dementia, including reduced anxiety and a decreased tendency to wander," she said.
Other speakers and topics of the public forum include:
Professor Helen Chenery (Bond University): Smart communication technology and conversational breakdown in dementia - An interdisciplinary perspective
Dr Theresa Scott (University of Queensland): Dementia and driving
Dr Jacki Liddle (University of Queensland): We need the experts – Developing technology with people living with dementia and their care partners to support communication.
The free public forum is being presented at the Gold Coast Health Research Week conference, a three-day event showcasing research from Gold Coast Health, Griffith University, Bond University and Southern Cross University that aims to build a healthier Gold Coast.
Gold Coast Health's Office for Research Governance and Development Acting Director Dr Greta Ridley said the health service had a strong and sustained focus on world class research to deliver improved patient care and health outcomes.
"We've developed a wonderful program of high-quality research, networking opportunities, panel discussions and workshops for our Research Week conference.
"We hope the general public will join in this free public forum which will focus on dementia, an increasingly important topic as the ageing population increases, and especially relevant to the Gold Coast population," Dr Ridley said.
The Dementia Caregiving and Technology Public Forum will be held from 5-7pm on 28 November at the Pathology and Education Building (Block E), Gold Coast University Hospital, 1 Hospital Boulevard, Southport.
It's free to attend, however RSVPs are requested.
For more information on Gold Coast Health Research Week conference visit www.goldcoast.health.qld.gov.au/research/research-week 
In brief
What: Dementia Caregiving and Technology Public Forum
When: Tuesday, 28 November 2017; 5-7pm
Where: Pathology and Education Building (Block E), Gold Coast University Hospital, 1 Hospital Boulevard, Southport
Why: Part of Gold Coast Health Research Week conference, the public forum is being hosted by Gold Coast Health, Griffith University and Menzies Health Institute Queensland
Contact: 5687 0663 or www.eventbrite.com.au/e/dementia-caregiving-and-technology-public-forum…