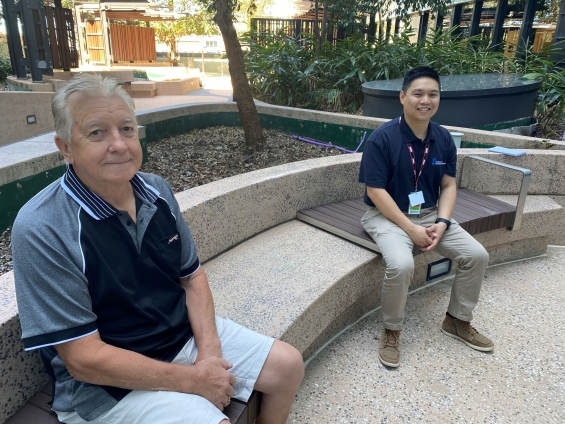 Alan Bishop says there's no time like September – Prostate Cancer Awareness Month – for men to take action with their health.
It's something he wishes he had done earlier.
Alan, 71, was recently diagnosed with prostate cancer and currently undergoes daily radiation treatments at Gold Coast University Hospital.
Alan said he had no symptoms but did have a Prostate-Specific Antigen test which returned high levels indicating that he should go for further testing.
Despite the high reading in his test results, Alan didn't get a biopsy until encouraged to by his friend more than five years later.
"I have a grade five aggressive tumour which requires nine weeks of daily radiation. That could have been avoided had I responded to the high PSA level.
"Instead of having it seen to, I buried my head in the sand because I had no symptoms and I thought I was fine."
Alan said fear of getting a biopsy procedure was the main barrier for him but having now had one, encouraged others not to let it get in the way of swift medical intervention.
"Getting a biopsy was no problem at all and that's what I was avoiding. It's a simple procedure and not a big deal," he said.
Throughout his treatment, Alan has been able to access the region's first specialist prostate cancer nurse, a new role implemented at Gold Coast University Hospital this year, funded by the Prostate Cancer Foundation of Australia.
Prostate Cancer Specialist Nurse Christian Morqueda is able to offer specific support and advice to patients and their families facing the unique challenges of a prostate cancer diagnosis.
"A cancer diagnosis can be a shock and a lot to take in. It's not just the physical side of things but the psychological impact as well," he said.
"I am able to spend more time with our patients explaining how their treatments will work, what the side effects may be and what support is available in the community during and after their treatment.
"It's really rewarding to be able to make what is a very difficult time, a little easier to navigate by making sure patients understand what is happening, know what to expect and connecting them with all of the support they need."
About 1 in 6 men will be diagnosed with prostate cancer in their lifetime – nearly 17,000 men each year. Sadly, around 3,100 men also die from the disease annually.
About 500 men on the Gold Coast are diagnosed with prostate cancer each year, and many of them will need ongoing care and support in the days, months and years after treatment.
The Specialist Prostate Cancer Nurse role is a part of the Prostate Cancer Foundation of Australia's Specialist Nursing Service, helping to improve outcomes for local men impacted by the disease. The Specialist Prostate Cancer Nurse role was made possible thanks to vital funds raised at the 2019 'Wagners It's A Bloke Thing' annual Gold Coast charity luncheon where a $400,000 was raised.