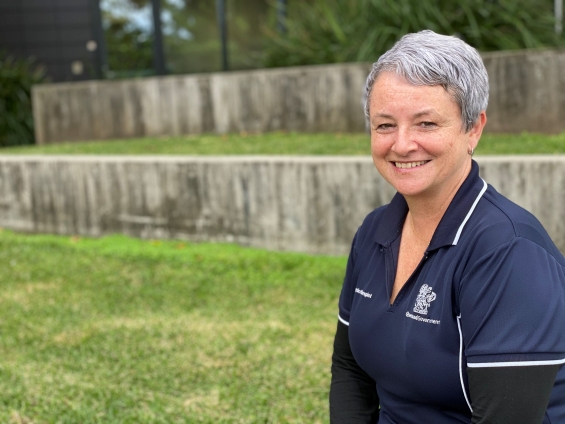 Advanced practice physiotherapist Deborah Lenaghan's journey into healthcare started 40 years ago in pathology before studying physiotherapy at university.
"I wanted to relate to patients more and I have been a sportswoman all my life so knew I wanted to work in sport," she said.
"I am really lucky. I got to work at on the Women's Tennis Association tour treating elite level athletes, working all around the world. It is something I will always been grateful for."
After then dabbling in private practice, Deborah took an opportunity with Gold Coast Health 11 years ago and hasn't looked back.
Deborah now leads a team of 14 physiotherapists in the Gold Coast Health emergency departments.
There are two distinct roles in the ED team, specialist generalists and niche musculoskeletal specialists.
"The specialist generalists are very experienced and skilled. They can manage a variety of conditions ranging from respiratory, neurological or musculoskeletal presentations, for example an elderly person with mobility or vestibular assessments. They can cover a whole range of things to help get patients safely out of the ED. Or, in the case of respiratory patients start meaningful treatment in the ED that optimises the patient journey," Deborah said.
"These physiotherapists have the knowledge to be able to speak to the doctors and say, 'I think this is something more than a musculoskeletal thing, this may be neurological'."
Niche specialists are experts in musculoskeletal physiotherapy which allows them to assess and manage people who come to the ED with such issues as sprains, strains and breaks.
"We can fully assess these patients and determine if they need imaging. We are able to put together a management plan and referrals," she said.
"This leaves the doctors to see sick people.
"There's level of trust between the doctors and the physio team and I am really thankful the team has established itself as always doing the best it can by the patients and for the ED team as a whole.
"For advanced practice physiotherapists, there is a tremendous responsibility. I know that we have the trust of the consultant group and the doctors but there is an onus on you to be on the cutting edge of musculoskeletal practice."
Deborah said it was important to put the patient at the centre of the journey.
"I know when the team has an interaction with someone, we have the ability to talk to them and work out how to move forward from this horrible, painful event they are having," she said.
"We're able to highlight to them that this is the road out. This is the map, you are at A and we want to get you to B. I can't hold your hand for the whole journey but look for these signs along the way and that's how you'll get there. That's really rewarding."