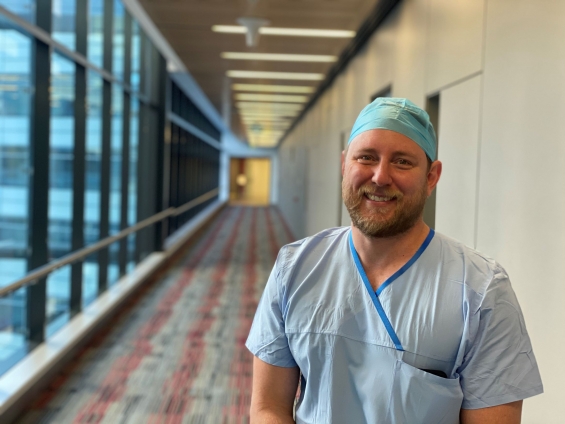 According to Gold Coast Health upper gastrointestinal surgeon Dr Philip Townend, Australian hospitals have played a key role in research related to the impact of COVID-19 on surgical patients and services.
Dr Townend is an Australian lead with CovidSurg, which is part of GlobalSurg, a collaboration bringing together medical teams from all over the world.
"It's centred from the Queen Elizabeth Hospital in Birmingham, which I used to work at," Dr Townend said.
"We were able to recruit over 1,600 hospitals around the world in over 100 countries, to be able to get data really quickly so that we can make decisions.
"It's amazing how this pandemic hasn't divided us as a medical community but has made us communicate with one another and collaborate to get results fast.
"It's just extraordinary to be a part of this process and we were able to recruit 37 hospitals in Australia."
CovidSurg has published papers about the potential outcomes of operating on patients who have COVID-19 and the surprising impacts isolation has on post-operative outcomes.
Dr Townend said to date, the key role of Australian hospitals in COVIDSurg had been as a control group.
"We have provided the data that the study needed for countries that weren't going through the pandemic as hard as countries such as the UK, the USA, Brazil.
"Countries like Australia, before we were hit by the second wave, were able to be used as the control group to compare to countries that were going to through the crisis."
Dr Townend said information from the studies helped him and other surgeons make decisions on when to operate.
Listen to Dr Townend speak to ABC Radio National Health Report here about the impacts of isolation before surgery.