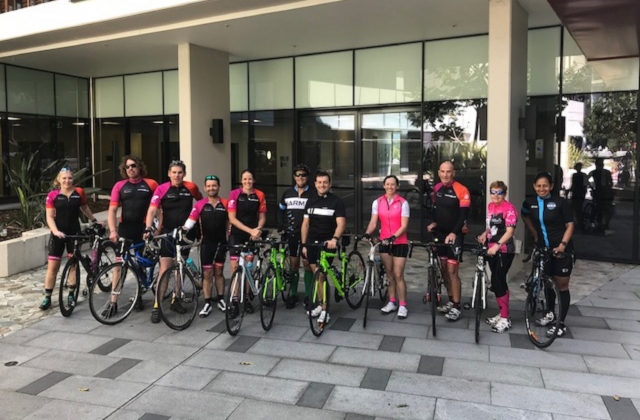 As one of the top three tertiary hospitals in Australia for organ donation, Gold Coast University Hospital was a fitting finishing point for an 82km ride promoting organ donation ahead of the 16th Australian Transplant Games.
Five transplant recipients were among the pack to conquer the 'Fit for Life Cycle Ride' from the Princess Alexandra Hospital in Woolloongabba to Southport.
The group of transplant recipients calculated they had been given 77 extra years of life thanks to organ and tissue donations. Stuart McLeod was among them and reflected on what organ donation means to him after crossing the finish line.
"I was lucky enough to have a kidney transplant sixteen years ago which enabled me to watch my children grow up. It meant everything to me," Stuart said.
"When you face death head on, you're on dialysis for three years and you've got young children, it's quite confronting. It's a matter of life and death.
"People in need of organ transplants have friends, family and mortgages and just want a chance to appreciate their life."
When welcoming the riders to GCUH, Clinical Director of Specialty and Procedural Services Doctor Deborah Bailey said Gold Coast Health was proud to be the official healthcare partner of the Australian Transplant Games.
"You are living proof that transplant recipients go on to live healthy and rewarding lives and I congratulate you on your efforts to highlight organ and tissue donation," Dr Bailey said.
"Our network of world class doctors, nurses and transplant co-ordinators help many families and people but they of course they couldn't do that work without organ donations.
"During the Games week, Gold Coast Health staff will provide medical support at events as well as accident and emergency services to any athletes and supporters."
Up to 1000 people are expected to attend the week-long Australian Transplant Games on the Gold Coast from 30 September to October 6.
The Games are staged by Transplant Australia, a national charity recognised by the Australian Sports Commission as a National Sporting Organisation with a Disability.
If you would accept a life-saving transplant for yourself or a loved one, then say yes to becoming an organ & tissue donor at http://donatelife.gov.au/atg