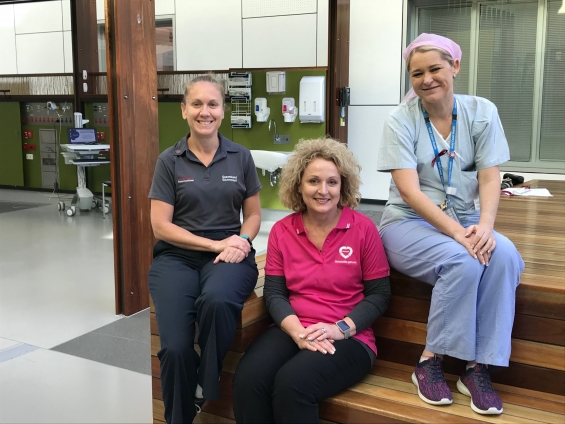 Organ donation means the world to some people, especially these three women who are helping to raise public awareness during Donate Life Week.
Anesthetic nurse Megan Jonas is on the transplant list for the second time in her life.
Diagnosed with type 1 diabetes at a young age, Megan received a kidney and pancreas six years ago after spending three years on the wait list.
"I remember the day, I asked them if they were serious, you go into a daze," she said.
"It was a mad rush to get on a flight (to Sydney) and scary still as you can get to hospital and they could call it off."
Nurse Practitioner Kate Dale manages the trauma service at Gold Coast University Hospital and regularly sees families faced with a decision on organ donation when a loved one is at the end of their life.
However, five years ago it became very personal when her fit touch-playing, pigeon-racing father passed away suddenly aged 66. His organs changed the lives of four people.
"My mum and he had discussed it just recently before he died. I think they were watching a program on tv and they had discussed it (organ donation).
"When the time came my mum was very sure of what dad's wishes would have been in that he wanted to donate," Kate said.
In her role as Donation Specialist Nurse Coordinator, Amanda Gilbert works with families in an intense time in their lives – potential donors are patients in the Intensive Care Unit who are so sick that their doctors do not think they have any chance of survival.
"I like the intensive care technology, the science behind it and I like helping families," Amanda said.
"This role really helps families because most families in the intensive care have never experienced this. They don't know the processes and having someone there to support help them through the donation side of death in intensive care, and helps them out a lot."
Donate Life Week from July 29 to August 5 aims to increase the number of Australians on the Australian Organ Donor Register.
Register to save lives at donatelife.gov.au
Megan's transplant story was published by the Gold Coast Bulletin
Organ donation facts
It takes 60 seconds and your Medicare card number to register donation wishes at donatelife.gov.au

The option to register donation wishes on your Queensland driver's license was removed in 2005

Organ donation is medically possible in less than 2% of all deaths

No one is too old or too ill to become a donor of organs or tissue