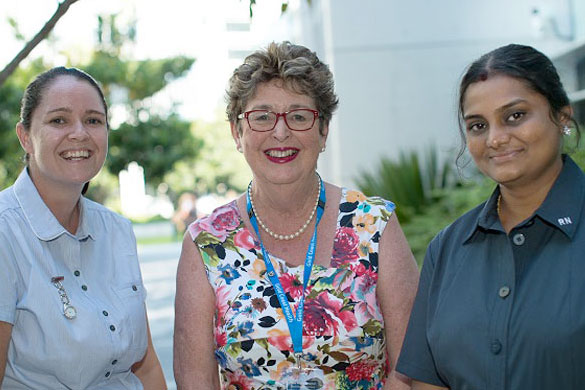 In this article from The Courier Mail's CareerOne lift-out, reporter Melanie Burgess discovers the health staff now in demand in southeast Queensland.
AN influx of nursing staff at Gold Coast hospitals is leading a surge in employment in the health sector in the region.
In the past 12 months, about 600 nurses have joined Gold Coast Health, which Professor of Nursing and Midwifery Dr Anita Bamford-Wade says is a major employer for the city.
"Whenever we advertise for nursing staff we are getting a very good response," Bamford- Wade says.
Gold Coast Health serves more than 551,000 people across Gold Coast University Hospital (GCUH), Robina Hospital, health precincts and community facilities.
The service is recruiting across specialties including trained critical care nurses.
"We are engaging creative recruitment strategies to attract and retain quality specialised nursing staff and that search is conducted locally, nationally and globally," Bamford-Wade says.
"We focus on nurturing the knowledge, skills and expertise of our nurses and midwives and this cohort of graduates are well placed for a wonderful career at Gold Coast Health."
Hays Quarterly Report for April to June reveals a range of roles are in demand in the healthcare and social assistance industry.
Degree-qualified and experienced case managers are particularly sought in child protection and out-of-home care while allied health professionals, such as physiotherapists, are needed in private practice and aged care.
"There has also been increased demand for mental health practitioners in both the private and not-for-profit sectors," the report reads.
"(They) are in increasing demand due to funding of community mental health programs."
While newly-qualified psychologists and social workers have trouble securing their first role, qualified and experienced psychologists and senior managers with social work or psychology backgrounds are in short supply.
"Demand in the aged care sector shows no signs of slowing, both at the entry-level-end roles and personal care attendants, as well as increasingly for senior management," the report reads.
"Aged care providers are vying for business-minded nurse managers who can maximise Aged Care Funding
Instrument and finances as well as offer strong people management and leadership.
Candidates with a nursing background are preferred, although larger providers are open to senior managers from hospitality and related fields for larger multifunctional sites."
Aboriginal-identifying healthcare workers are also in solid demand for their expertise and to increase team diversity.
For more information on nursing roles at Gold Coast Health, visit https://www.health.qld.gov.au/employment/work-for-us/clinical/nursing-m…