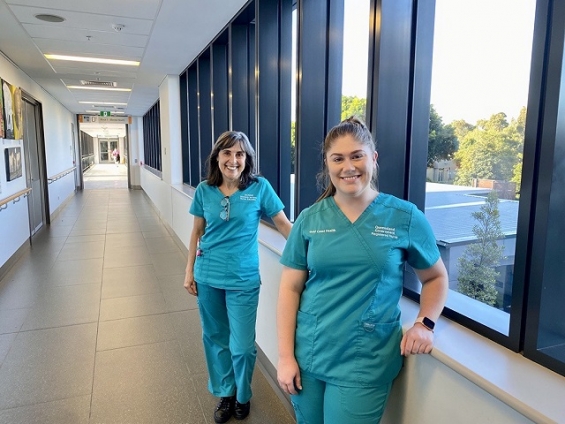 For mum and daughter duo Lucy Wooles and Janet Reinbold, nursing is well and truly in the blood, as the family profession spans three generations.
Lucy, 27, is a general medical vascular clinical nurse who cares for diabetic, cardiac and patients recovering from complex surgeries. As shift supervisor, she enjoys upskilling junior staff and imparting the skills she gained in ICU.
"Last year, I was lucky enough to get the opportunity to work in ICU during the COVID-19 pandemic. It was a very interesting experience and very demanding; I'm proud to say that I was part of the frontline," said Lucy.
"I'm equally passionate about bringing back some of that knowledge and those critical care skills that I learnt to the wonderful team here who already do an amazing job," she said.
It's certainly a family affair with mum Janet, a paediatric educator with 40 years' experience, encouraging a hesitant Lucy to consider a career in health.
"Lucy is caring and compassionate, has great organisation skills and attention to detail. I told her she would make an wonderful nurse. One day, she came home and told me she changed courses at university and now she's been nursing for six years," said Janet.
"I enjoy working at Gold Coast University Hospital and I especially love working with an amazing team of paediatric nurses and being involved in their professional development. I help nurses to develop their skills so that they can give quality paediatric care to children and families of the Gold Coast.
"Every single day I observe these nurses make a difference for children and families, helping them cope and get through tough times. While it's sometimes sad, is so satisfying when you know we are able to provide the level of care that the child and family has required."
Both agree that having one another's support is immensely valuable, especially on tough days.