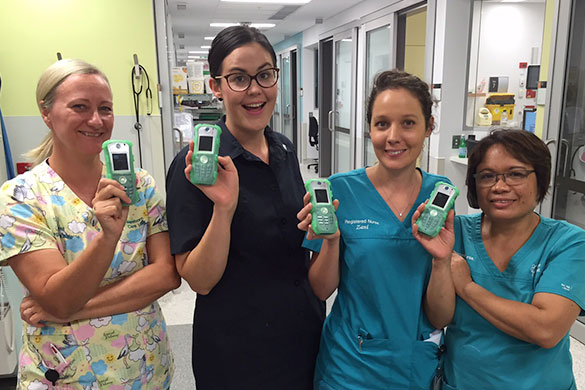 Gold Coast University Hospital's Newborn Care Unit has become the first in Australia to introduce ground-breaking technology that allows nurses to be alerted about serious patient events via their handheld phones.
The Newborn Care Unit has deployed Cardiomax, a technical solution that integrates with patient monitoring systems to send alarm messages to nurses' handheld phones whenever factors such as pulse and oxygen saturation reach critical levels.
Customised specifically for GCUH's Neonatal Intensive Care Unit (NICU) and Special Care Nursery (SCN), the application:
Constantly receives information on all infants in the Newborn Care Unit
Recognises when certain critical levels are reached and sends a message to the relevant bedside nurse
Forwards the message to other staff depending on the response of the bedside nurse
Helps reduce alarm fatigues by enabling intelligent alarm filtering.
Doctors can also be called for assistance at the click of a button.
Newborn Care Unit Director Dr Peter Schmidt said the move towards more family-oriented care of babies at GCUH had inspired staff to find a technical solution that balanced safety with increased privacy.
"In multi-patient rooms we would have constantly had a nurse present but that is not always the case with our single-family rooms," he said.
"We have other technology that is already designed to ensure patient safety at all times but this phone solution provides yet another layer to overall patient wellbeing.
"It allows staff to decide whether an alarm even needs to be responded to physically, thus avoiding unnecessary disruptions at a time that is extremely important for both babies and their parents."
As part of their research when designing GCUH's Newborn Care Unit, Dr Schmidt and NICU Nurse Unit Manager Cathy Van Den Berg toured two US hospitals that employed similar technology. Dr Schmidt also conducted a separate trip to see the concept in action at a Rhode Island neonatal intensive care unit.
"This system is strengthening our family-oriented approach to newborn care and reinforcing that increased privacy does not need to mean lower quality of care," Dr Schmidt said.