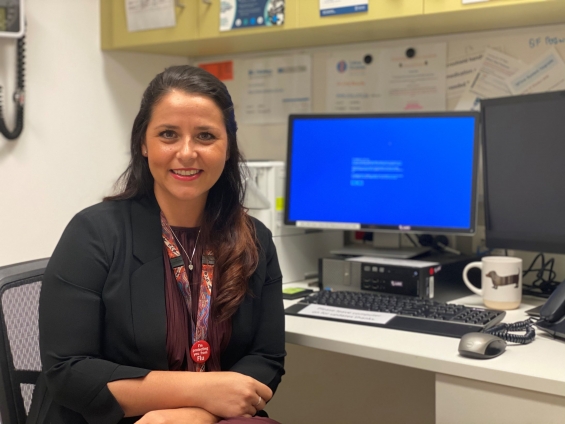 At the age of 22, Linda Clarke had lost both of her parents to cancer.
"My mum died in hospital but I was able to care for my dad at home for end of life – I had absolutely no idea what I was doing," she said.
This experience led Linda to embark on a career of caring for others, much the way she did for her father.
"I studied nursing because I wanted to make a difference in the lives of people like my parents, and families like mine, in similar situations," she said.
Linda has worked in oncology, haematology, and palliative care as a Clinical Nurse, Clinical Nurse Educator, and Nurse Unit Manager of an oncology day unit.
She studied as a Nurse Practitioner at University of Sydney.
For the past two years she has been the Supportive and Specialist Palliative Care Nurse Practitioner at Gold Coast Health, working across Gold Coast University Hospital and Robina Hospital.
"I work in an amazing team of doctors, nurses and allied health clinicians who all contribute to the care of our patients, their loved ones and carers requiring specialist palliative care," she said.
"We provide expert advice regarding symptoms relating to a life-limiting illness, complex advance care planning, and specialist Allied Health input. We support the patient's goals of care and quality of life.
"Much of our work is providing advice and support to other health care providers such as general practitioners, community nurses, and other hospital-based teams. We maintain community links with the GP and community nurses as the centre of care."
Linda says it is a privilege to care for people with a terminal illness.
"Patients may be worried or scared about palliative care, associating it with death and dying," she says. "It is so rewarding when they meet us and feel a sense of relief because it is so much more.
"My job keeps at the forefront the fragility of life. I am lucky enough to understand the importance of living each day to the fullest and valuing the simple things in life. I am reminded each and every day how important my family and friends are to me."
Linda says working as a nurse practitioner in the community enables her to provide comprehensive co-ordination of care for people with complex palliative care needs.
"My role helps to provide increased access to speciality consultation for the broader community, reduce wait times for patients to be seen by our specialty team, help patients achieve their goals of care in their place of choice, avoid unnecessary hospital admissions, and maximise quality of life which is so important to every person."