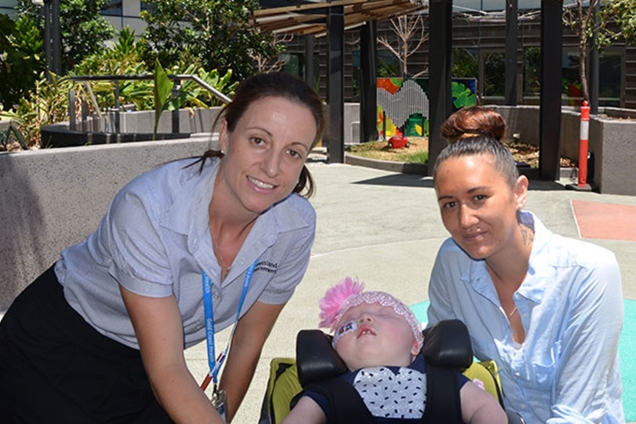 Nurse Navigators are making a difference to Gold Coast families whose children are so sick they face hundreds of hospital visits, appointments and treatments each year.
Eighteen-month-old Kaiarna-Blessing Mako-Kelly was born with an undiagnosed neurological condition, has multiple seizures each day, abnormal muscle tone from a condition called dystonia, is tube fed and requires medication every four hours.
And although mother-of-three Krystal describes life as "challenging and chaotic", the Mako-Kelly family was able to take its first holiday together recently due to the unique coordination of care provided by Gold Coast Health Nurse Navigator Kelly-Anne Ince.
The family enjoyed a three-day getaway to the Sunshine Coast and were able to carry with them a healthcare summary detailing Kaiarna's complex care requirements and direct contact details for clinicians on the Sunshine Coast in the event Kaiarna needed urgent treatment.
Gold Coast Health Professor of Nursing and Midwifery Dr Anita Bamford-Wade said the Mako-Kelly family was proof the Nurse Navigator initiative was making a real difference to patients with complex conditions.
"Nurse Navigators are designed to partner with those patients who have the greatest need and guide their journey through an increasingly complex health system," she said.
Gold Coast Health's five Nurse Navigators joined the paediatric service earlier this year to assist children with complex or chronic health care conditions.
Ms Ince, who has a Masters of Paediatric Nursing, coordinates appointments between Kaiarna and the 30 health professionals between Gold Coast University Hospital and Lady Cilento Children's Hospital involved in her ongoing treatment.
Out-of-hospital care extends to organising appropriate medical equipment to increase Kaiarna's quality of life at home and linking the family to other agencies and providers.
"As a Nurse Navigator in paediatrics it is my role to help those children who don't fit in the box. They are the families that are most in need.
"The end goal is to support the family to be able to build the capacity and their tools to feel comfortable to self manage, advocate for, and navigate their child's care," Ms Ince said.
Krystal said the integrated approach to Kaiarna's care made all the difference to their family.
"Kelly is always someone I can call if I need to get in touch with a doctor. She sends me a list of all our appointments and if I have any questions I know she is only a phone call away," Krystal said.
Dr Anita Bamford-Wade said 50 Nurse Navigators would be employed across the broader health service in the next four years.
"We are currently recruiting for five more Nurse Navigator across Mental Health and Specialist Services and Diagnostic, Emergency and Medical Services."
Dr Bamford-Wade said the rollout of the program would lead to more consistent and personal contact from nurses and the closer case management could result in families requiring fewer trips to the Emergency Department and readmissions for children.
"By helping patients with complex needs to move seamlessly through our health care system, these experienced nurses will link patients with the right health professionals, at the right time and in the right place to ensure they receive safe, quality care that meets their needs," she said.