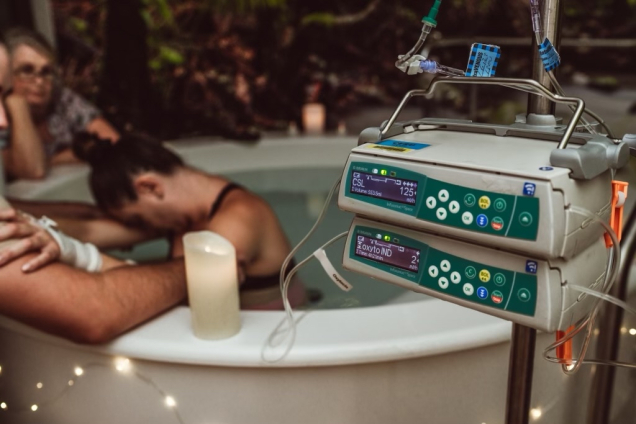 Cradling newborn Zara in her arms, midwife and mum of two Rachel reflects on her 'amazing,' Warm Water Immersion experience in Gold Coast University Hospital's birthing suite.
Had baby Zara come into the world just a few weeks earlier, the labour experience for her and partner Troy would have been different.
Prior to May, Gold Coast University Hospital operated under the national Warm Water Immersion (WWI) guideline that ruled out birthing pools for all but the lowest risk births.
Having birthed her first child, Shiloh, nine years ago – in water – Rachel was looking forward to that same nurturing experience.
"I thought it would be the same with my second birth, but every pregnancy and labour is different," Rachel said.
"Late in my pregnancy, Zara was diagnosed as LGA – Large for Gestational Age - and an induction was recommended, which I consented to."
Due to Zara's larger size, as well as the oxytocin infusion and CTG monitoring required for the induction, Rachel would have been required to labour and birth on land.
"I was probably in the bath for about an hour, with the continuous monitoring of her heart rate and the oxytocin drip," Rachel said.
Rachel is a midwife and knows that a lot of women like the idea of using water for pain management.
"When I had explained to other women, in the past, that if you do go down the induction path, or if you have these other risk factors, that will disqualify you from using the bath, it was so disheartening for them."
After two years of research – a new warm water immersion guideline, developed by Gold Coast Health, is now giving Gold Coast women like Rachel more birthing choices.
Acting Assistant Director of Nursing and Midwifery (Research), Dr Valerie Slavin and Consultant Obstetrician Dr Sally Byford led the development which is receiving national interest.
"Water birth and water immersion is generally seen as a risky practice, despite no evidence to support that. In fact, there are many benefits," said Dr Slavin.
"It creates a sanctuary for women to be able to labour and birth, women feel protected, it reduces anxiety levels in labour, and we know that it impacts the ability to labour physiologically, reducing birth intervention."
The extraordinary work by this Gold Coast group of midwives, doctors, consumers, researchers, educators, and academics, is generating a lot of national interest.
Currently in Australia, almost half of all first-time mothers are being induced with oxytocin, and one in three women are having caesarean sections, leaving uterine scars.
The new guideline clearly delineates two stages of labour. In the first stage, almost all women who can easily enter and exit the pool are supported to get into the pool.
"The second stage recommends that some women birth on land, until there is more evidence available," said Valerie.
"But the first step is to get more women into the pool during labour."
For Rachel, and many more women, this is the change they have longed for.
"It's a huge progression for women of the Gold Coast," Rachel said.
She encourages mums-to-be to chat with their midwives about pain management, water immersion and to get their partners involved in the discussion.
For Zara's arrival, Rachel laboured in the pool, then birthed outside the pool.
"Importantly, it was my choice to get out of the bath."