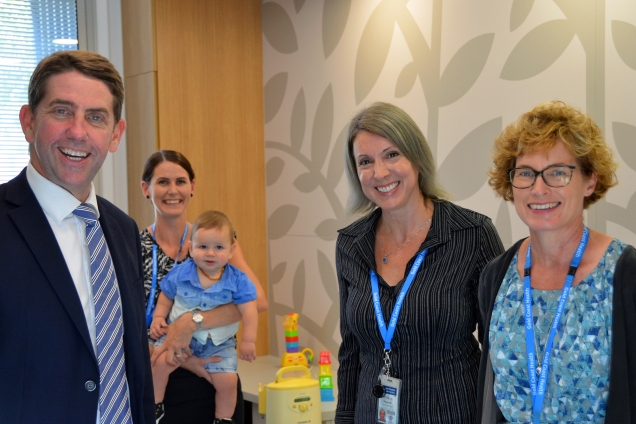 Queensland's first public mother-and-baby mental health unit will open at Gold Coast University Hospital this month.
Touring the facility today, Minister for Health and Ambulance Services Cameron Dick said the new Lavender Parent and Infant Unit will enable mothers diagnosed with acute postnatal disorders to receive treatment without the added anxiety of being separated from their babies.
"Perinatal Anxiety and Depression Australia figures show more than 1 in 7 new mums and up to 1 in 10 new dads experience postnatal depression each year," the Minister said.
"While Queensland's public hospitals provide a range of perinatal mental health services, this is the first time mothers will be able to be admitted for treatment and support with their babies.
"This is an important step forward because we know that intervention during the perinatal period is critical to improving the health of mothers and their ability to care for their baby.
"This new unit will ensure mothers with acute perinatal disorders can receive treatment while continuing to nurture and bond with their baby."
The Minister said the new unit was being funded under the Palaszczuk Government's Connecting Care to Recovery plan which is providing $350 million over five years for state-funded mental health, alcohol and other drug services.
"The funding is also part of a bigger investment of $30.2 million funding package to improve perinatal and infant mental health specialist community and inpatient services across the state," Mr Dick said.
The Lavender Unit has been allocated $3.5 million in 2016-17, with recurrent funding of $4.6 million allocated from 2017-18.
Mothers may be admitted following the birth of her baby with disorders such as severe depression, anxiety or a psychotic illness such as a bipolar mood disorder, schizophrenia or postpartum psychosis.
Gold Coast Health Mental Health and Specialist Services Executive Director Karlyn Chettleburgh said the 4-bed mother-and-baby unit would be named the Lavender Unit and situated within a wing of an acute mental health ward.
"Our lead clinician is perinatal psychiatrist Dr Susan Roberts who is among the state's top specialists in this area and has been a major driver advocating for services that support the health and wellbeing of both mother and baby.
"She will be heading up a multidisciplinary team that includes experienced doctors, nurses, social workers, occupational therapists and other allied health workers.
"This team will be supported by an outreach community team that will provide pre and post admission transition and care," Ms Chettleburgh said.
Alongside the clinical services, patients will have access to members of the lived experience team – people who are able to offer peer support to mum and the extended families during their stay.
Michelle Edwards was treated for severe postnatal psychosis following the birth of her first child 24 years ago and is now using that lived experience as a carer consultant with Gold Coast Health.
"It can be a frightening and isolating experience for mothers trying to deal with their symptoms especially when needing to care for a new baby at the same time," Ms Edwards said.
"As someone who's had the experience of a postnatal disorder, I hope to have a positive impact on the mums coming through the Lavender Unit and give them hope for a brighter tomorrow."
The Lavender Unit will welcome its first patients from 27 March 2017.