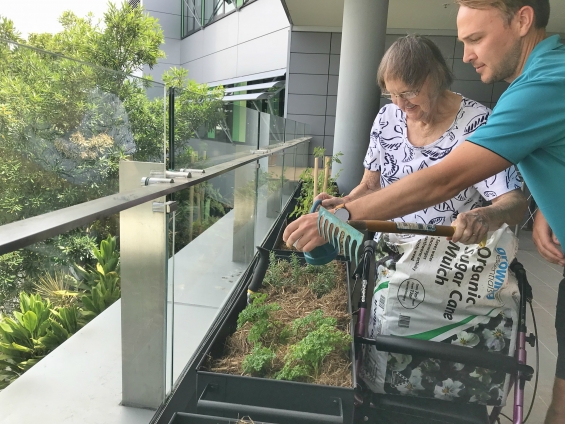 Robina Hospital's inpatient rehabilitation unit has a new therapy space that will help patients return home faster and reduce the risk of readmission.
LIFEspace, featuring garden beds and a simulated supermarket, was funded through this year's The Improvers and the Gold Coast Hospital Foundation.
Similar to the therapy space created at Gold Coast University Hospital three years ago, the mini-mart includes shelves full of realistic-looking packaged food items, a functioning automatic teller machine (money not included), a trolley and baskets donated by Woolworths and a display fridge donated by Coca-Cola.
Patients are often unable to engage in the everyday activities that bring meaning and purpose to their life due to factors outside of their control, according to Occupational Therapist Daniel Wray.
"Many of our patients lose confidence due to their frailty, so engaging them in daily tasks such as shopping and gardening helps them to return home sooner and reduces the risk of readmission," Mr Wray said.
"It provides people on the road to recovery with a safe and controlled environment to practise the everyday tasks we take for granted – using an ATM, navigating a supermarket and engaging with a check-out operator."
Therapy includes maintaining and watering garden beds, and using a personal computer to pay bills and engage in social media.
"These activities require memory, helping with mental processing and general aging," Daniel said.
Stroke patients, in particular, benefit from activities such as meal planning, budgeting and paying for a meal, visually scanning for items, as well as negotiating space using a mobility aid, reaching and carrying.
The LIFEspace at GCUH has had some impressive results since opening, with patients showing a significant improvement in confidence and better rehabilitation outcomes.