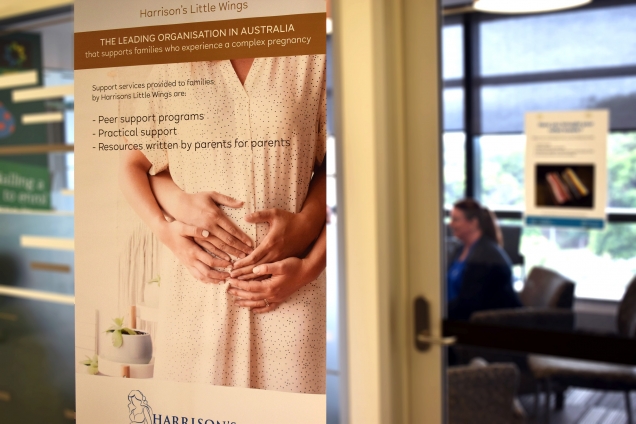 A new support group, the first of its kind in Queensland, is providing mothers with high-risk pregnancies an outlet to talk about their feelings with peers in similar situations.
The support group is the brain child of Melanie McKenzie, director and founder Harrison's Little Wings, a Queensland charity that supports families with a complex or life-threatening pregnancy or poor foetal diagnosis.
"We think it's really important to break down the isolation for women. Often, they sit on the ward and they don't have anyone to talk to in terms of what they're going through.
"Yes, they can talk to their friends and family, but having someone who truly understands the stress makes all the difference," Melanie said.
The charity idea was born after Melanie recognised an Australia-wide shortage in support networks for women with complex pregnancies.
Along the way, she built a relationship with Tionie Newth, a Clinical Midwife Consultant who worked in Maternal Fetal Medicine at Gold Coast University Hospital and eventually the support group at the hospital was born.
The weekly sessions, held at Gold Coast University Hospital and hosted by volunteers of Harrison's Little Wings, involve in-patient or community-based women and their partners going through or who have gone through a high-risk pregnancy.
"It's led by either the women themselves or the volunteers who lead the meetings, who have also had a high-risk pregnancy," Tionie said.
"It's really hard in hospital, especially when we have so many single rooms, it can be quite isolating. This just helps them get out of that clinical space, and I think from an emotional and mental health perspective, it's going to be really great."
The charity, among many services they offer to families in this situation, provides the hospital with toiletry bags to give to pregnant women who find themselves admitted without much notice.
Eventually, Tionie wants to factor in the support group with antenatal education, which is offered to all Gold Coast women who are pregnant.
"Women who have a high-risk pregnancy sometimes struggle to identify with women who don't have the same challenges that they do. Sometimes they're not given a choice about the way their pregnancy goes, it's taken out of their hands. The point of those classes is still education, but we'd be helping them find their new normal."
Ultimately, Tionie and Melanie just want families dealing with additional stresses to feel like they're not alone.
"Regardless of what happens in their pregnancy, hopefully they've created a great support network, which is vital," Melanie said. "In motherhood it's common to have mums in your life who have similar-aged children, but it's also a bit different mothering when you've been through a risky pregnancy."
Classes are held every Monday at 1pm. If you want to join the support group, visit the contact page at https://harrisonslittlewings.org.au/