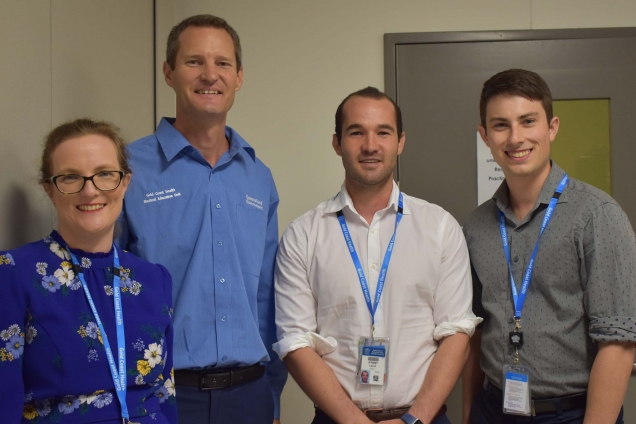 The next wave of medical interns has arrived at Gold Coast Health to start a new chapter of their careers.
The 91 junior doctors are participating in a two-week orientation program to familiarise themselves with the health service, its clinical practice and procedures.
Next week they will begin the first of five rotations through a variety of hospital areas that may include general medicine, surgery, emergency medicine and additional elective terms in other specialised areas such as anaesthetics, psychiatry and more.
This year, 30 of the 91 junior doctors will complete a five-week rural and regional exchange at hospitals in Charleville, Roma and St George as part of a state-wide initiative to strengthen the whole public health system.
Deputy Executive Director of Medical Services Dr Kellie Wren said Gold Coast Health prided itself on welcoming one of the state's largest contingents of medical interns in Queensland.
"Many of our interns come to us from the city's very own universities – Griffith and Bond – but we also have some from James Cook University and interstate.
"Gold Coast has become a highly sought-after location for the next generation of doctors to begin their careers because of our pool of senior and highly-skilled doctors, research opportunities and more," Dr Wren said.
Past interns have described their experience at Gold Coast Health as:
"With first-rate facilities, world-class staff and the perfect mix of encouragement, support and workload, Gold Coast Health offers the ideal place for a first-year doctor to learn, grow and progress."
"The world-class facility at Gold Coast University Hospital, in conjunction with the other sites within the service, offers the vast majority of specialty and sub-specialties within a tertiary teaching hospital that is personable enough to develop strong collegial relationships, yet capable of providing a competitive edge on a national and international stage."
Dr Wren said the health service had a comprehensive training program and support system dedicated to junior doctors.
"We've worked tirelessly over the past 12 months to improve the training experience for our junior staff and their wellbeing. This includes a restructure of the Medical Education Unit," Dr Wren said.