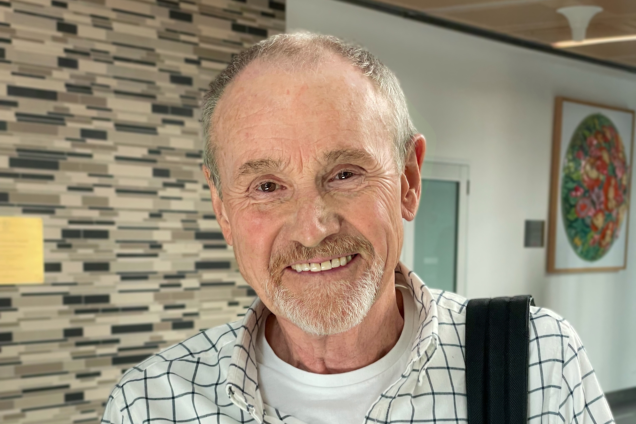 Jeffrey Rand says he would not be here today if not for a revolutionary cancer treatment currently undergoing a clinical trial at Gold Coast University Hospital.
Three rounds of chemotherapy had little effect on the progression of his refractory diffuse large B-cell lymphoma (DLBCL), and he had few options left apart from another stronger round of chemo.
Instead, Mr Rand took the opportunity to be part of a clinical trial to test an immunotherapy drug, a T-cell engaging bispecific antibody.
"Without this trial, there is absolutely no doubt I wouldn't be sitting here," he said. "For me, it has been very successful: I've had two years of normality with very few side effects. Two years of life that I otherwise wouldn't have had."
PET scan images taken over the past two years show how the many tumours formerly seen throughout Jeff's body have all but disappeared.
"Dr Tara Cochrane, the study doctor, and the supporting clinical trials team have been essential to my confidence in the processes the trial requires. They have supported me with their empathy to continue with optimism," Jeff said.
Mr Rand, a resident of the Northern Rivers, travels to Gold Coast University Hospital once a month to receive his treatment, which uses an antibody to bind T-cells to the cancerous B-cells with the aim of improving the immune response.
The United States Federal Drug Authority (FDA) recently approved the drug to treat DLBCL.
As part of the agreement signed at the start of the trial, the treatment may end when the trial ends, but there are provisions for compassionate access should the medicine continue to be produced.
"It's possible for things to change, and I'm well aware of that, but...you learn to live in the present moment and that is enlightening."
Find out about participation in clinical trials here.