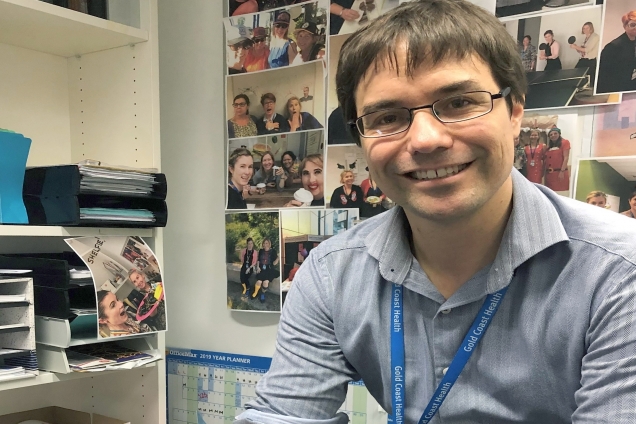 A health app is changing the way GPs and other healthcare professionals help palliative care patients.
The Pocketbook of Palliative Medicine app is a concise guideline written for non-palliative care clinicians to help them look after patients in their last few months of life.
Created by Dr Graham Grove and Dr Paul Howard in the UK five years ago, Dr Grove brought the idea with him when he left the Isle of Wight and returned home to Australia and joined Gold Coast Hospital and Health Service as a staff specialist in palliative care. In the Isle of Wight, the palliative care guidelines were in the form of a pocket-sized book, but when Dr Grove came to the Gold Coast, wanted to find another way to assist busy clinicians on the go.
"I just downloaded some software that lets you type an e-book and convert it into an app, it was a bit of a learning experience," he said.
Dr Grove is part of the five-person palliative care team who are busy with wards in both Robina Hospital and Gold Coast University Hospital, as well as they see patients from other teams who have issues with palliative care.
The app is designed to take a bit of the extra load off the team, says Dr Andrew Broadbent, who was on the editorial board for the app's content.
"It's about building the knowledge base and the confidence that people can deal with the relatively more simple scenarios within their own service," Dr Broadbent said.
Dr Grove agrees.
"It's not detailed, the whole point of it is to be really simple and straight forward. You just click on what you want and you've got the information right in front of you without having to go through reams of text," said Dr Grove.
So far, the free app has been downloaded from the Apple and Android stores more than 10,000 times. When version three is finalised, a printed version of the app will be made available to those clinicians who can't carry mobiles at work.
With the success of the app, may we see a career change for Dr Grove? He doesn't think so.
"My hopes for the app are just to keep it updated and that interns and doctors use it, save the phone calls in the middle of the night! It's the advice we might offer them over the phone in a little booklet."
The team is talking to Japanese palliative care teams about creating a Japanese edition of the app later this year, and if the Gold Coast palliative care team can find further resourcing, they may look at translating it further for other Asian or European markets in the future.
For healthcare providers interested in the app, you can download the app from the iTunes store or download via Google.