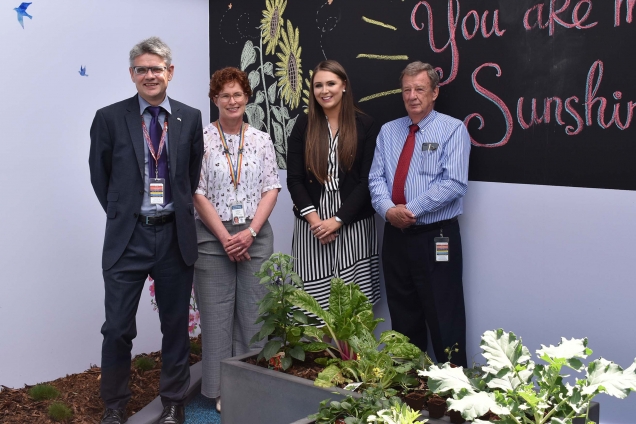 An outdoor space for new mothers recovering from severe mental health conditions will open at the state's only publicly-funded mother-baby inpatient facility.
The sensory garden and enclosed courtyard cost $250,000 and is the latest addition to the Lavender Mother and Baby Unit at Gold Coast University Hospital, home to the state-wide specialised mental health service.
Member for Gaven Meaghan Scanlon said the Lavender Unit was vital to providing care for women who are experiencing severe mental health difficulties, and their baby, in the first year following childbirth.
"The dedicated staff of the Lavender Unit were awarded $50,000 through the Gold Coast Health staff innovation awards program," Ms Scanlon said.
"This is another fine example of the staff going the extra mile to ensure their patients experiencing some mental health problems, can stay with their babies in a healing natural environment in addition to the clinical setting," Ms Scanlon said.
An additional $200,000 was provided by Chief Executive Ron Calvert to build the outdoor area which will be used for relaxation and group activities such as mother-and-baby yoga.
Member for Gaven Meaghan Scanlon officially opened the project on Friday alongside mental health executives.
Perinatal Psychiatrist Doctor Susan Roberts said the postnatal period was a particularly vulnerable period for women to develop or experience recurrence of psychiatric illnesses.
"At least 20 per cent of women have significant mental health problems during pregnancy and/or the first 12 months after birth," Dr Roberts said.
"Mental health problems in the perinatal period are common for women and this can impact the health of the entire family."
The four-bed Lavender Mother-Baby Unit opened at Gold Coast University Hospital in March 2017 to support new mothers requiring specialised perinatal assessment and treatment.
Mothers may be admitted following the birth of their baby with disorders such as severe depression, anxiety or a psychotic illness such as a bipolar mood disorder, schizophrenia or postpartum psychosis.
Alongside the clinical services, patients have access to a multidisciplinary team of allied health workers, members of the lived experience team – people who are able to offer peer support to mum and the extended families during their stay.
"We adopt a family-centred approach, which is the international standard, but until now the unit hasn't had an appropriate space for family to come and visit their loved one, or to hold valuable family meetings between the treating team, the patient and their valued support people," Dr Roberts said.
Service Development Coordinator from the Lavender Unit, Grace Branjerdporn, said it had been exciting to watch the sensory garden and courtyard take shape.
"Our unit has been delivering world-class therapeutic care for over two years now and we now have an outdoor environment that will really benefit our mums, their babies and our clinical teams," she said.