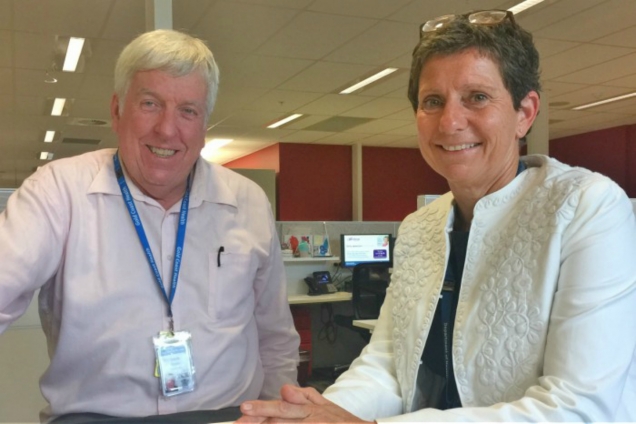 Specially-trained forensic physicians will now work as part of Gold Coast Health's emergency departments following changes introduced on 1 October.
Previously, forensic physicians were allocated to cases from Health Support Queensland in Brisbane, but this change will see them working directly as members of the health service, reporting to Medical Director of Emergency, Associate Professor David Green.
"The forensic medical matters that happen in this region are similar to most big cities and the forensic medical officers are typically involved in assaults, watch house management of patients with complex drug and health concerns, and increasingly with victims of alleged sexual assault.
"It's important for vulnerable patients and victims of crime that they have a rapid response time and a professional, highly trained forensic physician to both look after the patient in a holistic way and manage all the medico-legal issues that may result from the examination.
"Previously the service was Brisbane based and the response times were inadequate to provide reasonable care for a large number of those patients on the Gold Coast," David said.
"The fact that the service is now based here is ideal, as it means the response times for the patients will be shorter."
The role of a forensic physician is to collect evidence that will assist in police investigations and assists the courts in matters of justice.
The specially-trained doctors must provide an impartial and unbiased service to assist with collection of biological evidence for victims of crime and for alleged offenders.
Dr Cathy Lincoln, a 25-year veteran of the speciality, is one of two forensic physicians who now works for Gold Coast Health. She said the change would see a more streamlined service for patients in need of a forensic medical assessment.
"Previously the service was fragmented rather than streamlined, and having us in the emergency department will help assessments happen much more efficiently and quickly for the patient," Cathy said.
"To be able to do this job within a mainstream emergency department is good for patients, but it's also good for us.
"Traditionally forensic doctors have worked outside mainstream healthcare in clinically challenging environments like police stations and watch houses, so for us to have a base within a hospital means we can provide good quality healthcare in our forensic work."
David and Cathy agree this new model will be emulated by other hospital and health services across Australia.
"I think this will be a model that will be emulated nationally as I think it's the way forward for clinical forensic medical services," Cathy said.
Dr Green and Dr David Spain have been acknowledged for their work to bring the service into the emergency department environment, where the best care can be provided to vulnerable patients.
A further two forensic physicians will be recruited in the coming months, taking the team to four.