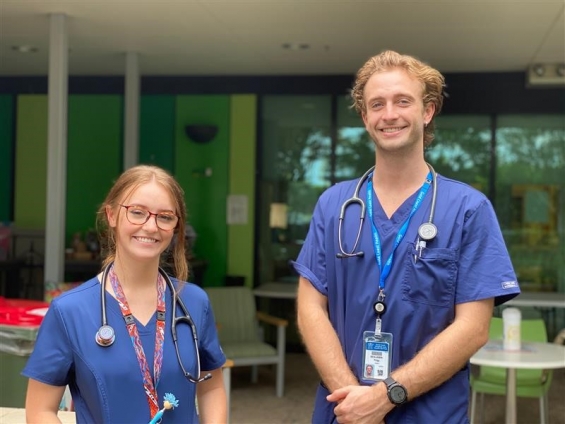 More than 280 medical interns and newly graduated nurses have started their careers at Gold Coast Health hospitals.
Ninety-one are junior doctors who will embark on the first of five rotations through a variety of hospital areas including general medicine, surgery, emergency medicine and specialties such as psychiatry and more.
The annual intake of 150 newly qualified nurses commenced 24 January and includes 106 Registered Nurses bound for wards, 22 to midwifery services and 27 to mental health units.
In January, Gold Coast Health employed an additional 20 graduate Registered Nurses and 24 graduate Enrolled Nurses, to help deliver safe, quality healthcare to the Gold Coast community.
Executive Director of Medical Services, Clinical Governance and Research Dr Jeremy Wellwood said this year's intern intake would gain valuable experience being on the front line of the COVID-19 pandemic response, and the health service valued their contribution.
"We understand these interns will be honing their professional skills in unprecedented times, but we have confidence in our comprehensive training program and support system dedicated to junior doctors."
Executive Director, Nursing, Midwifery and Patient Experience Paula Duffy welcomed the new nurses and midwives who will be spread across Gold Coast University Hospital and Robina Hospital.
"Our 2022 cohort are joining a wonderful nursing and midwifery team who have risen to the challenge by supporting one another and providing the best care possible to the community throughout the pandemic.
"We know it will be another challenging and busy year and I'm grateful for everyone pulling together to ensure our patients keep receiving the care they need."
The Gold Coast is a highly sought-after location for the next generation of healthcare workers to begin their careers because of our pool of senior and highly skilled doctors, experienced nursing leaders, research opportunities and more.