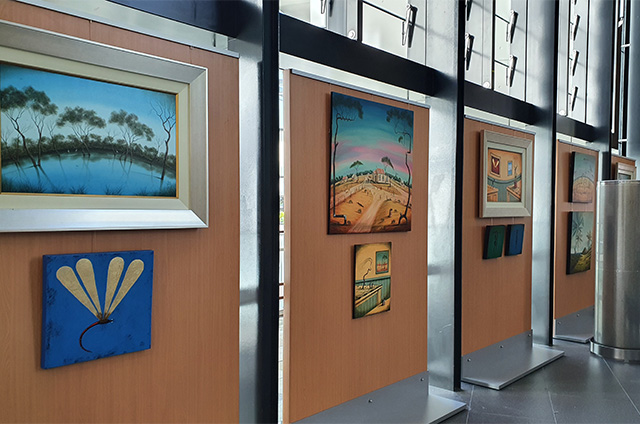 Gold Coast Health has unveiled a stunning new public art exhibition by artist Kym Hart, who is donating 25 per cent of sales to the Gold Coast Hospital Foundation.
The donation will go towards funding mental health creative projects.
The exhibition includes more than 40 new works completed by the Tamborine Mountain-based artist in the last six months.
The son of renowned Australian artist, Pro Hart, Kym is passionate about creative art projects that inspire and encourage healing through creative expression, having a family member who experienced mental health struggles.
Kym recently took on the role of head judge for the successful Artbeat Festival at Gold Coast University Hospital (GCUH) as part of Mental Health Week celebrations.
He is no stranger to GCUH, having had open heart surgery four years ago.
The centrepiece of this exhibition is a large painting looking back towards the hospital's sprawling lawns – a place where he and other patients spent time reflecting on what they had just been through.
"I was really excited to then be approached about having my own exhibition here. This hospital is such a great venue, full of art. I also wanted to ensure that the exhibition could in some way support the hospital's ongoing mental health creative programs," said Kym.
The exhibition is certain to appeal to all tastes, with a selection of works and subjects from landscapes, colourful still life and bush and outback settings inspired by the artist's late father.
Located in the Gold Coast University Hospital main foyer, the exhibition is a project of the Gold Coast Creative Health Hub and runs until February, 2023.
Interested art collectors can also view and purchase works online with 25 per cent of online sales also being donated by the artist. To purchase one of the works, visit www.kymhart.art