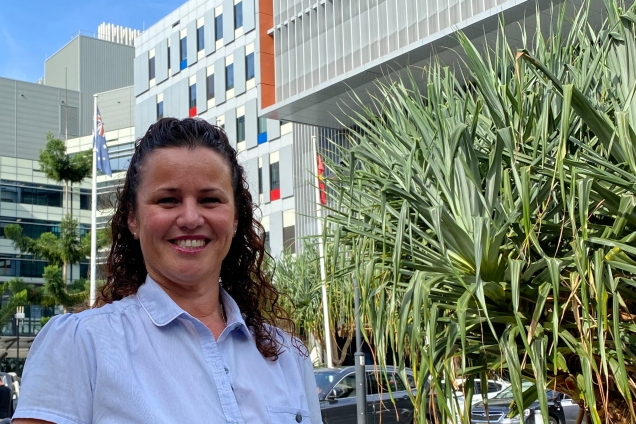 Gold Coast Health patients whose excess weight is a major risk factor are being guided towards better health outcomes by Queensland's first Obesity Nurse Navigator.
Each year, Gold Coast Health provides care for 17,000 patients whose weight is impacting their health. More than 91,000 Gold Coast adults and one in five children experience obesity.
Justine Burtenshaw works at Gold Coast University Hospital and is Queensland Health's first Obesity Nurse Navigator caring for patients experiencing obesity.
Ms Burtenshaw says a Nurse Navigator acts as a supportive common thread that strings multiple care components together to deliver more holistic care and reduce stigma.
"A patient can have multiple touch points along their journey. My challenge is to coordinate their care across various sectors including acute care, as well as connecting them to the right supports in community and primary health services," Ms Burtenshaw said.
"Some of that coordination includes linking in specialist nursing staff before and after treatment, or with allied health services such as dietitians and psychologists."
Ms Burtenshaw added that maximising opportunities to improve health literacy and self-management was high on the agenda while connecting patients to the most appropriate service when and where they needed it.
"I educate staff about best practice, but just as importantly, I strive to educate patients so that they feel more empowered," she said.
"My job involves assessing and caring for patients who experience obesity, so they are comfortable to be referred to services for support and guidance for ongoing health and wellbeing."
Surgery, Anaesthetic & Procedural Services Executive Director Sandra Lenehan said the Nurse Navigator Obesity role was another step forward in tackling the complexities associated with a growing number of patients with weight-related health concerns.
"This new role is vital in helping us manage that demand by promoting a safer and more efficient patient journey across the care journey," Ms Lenehan said.
Gold Coast Health Chief Executive Ron Calvert said the Obesity Nurse Navigator was yet another way the health service was delivering leadership in healthcare.
"Nurse navigators have proven their value across many areas of Gold Coast Health, and we now have 50 Navigators guiding patients with complex health issues to access the care they need," Mr Calvert said.
Gold Coast Health recently implemented a Healthy Food and Drink initiative, for the removal of sugary drinks across its facilities.
It also supports the Gold Coast Active and Healthy City Strategy, with a broad range of community, healthcare and individual wellness opportunities.
Wednesday 4 March is World Obesity Day. Obesity now affects 650 million people worldwide.