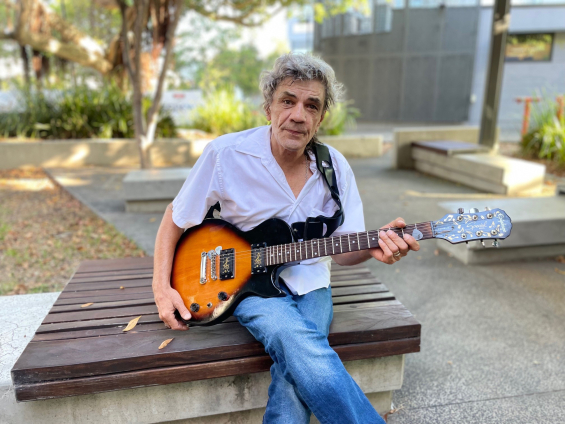 Wayne is a former Gold Coast Health patient who, after going through a very tough time, found himself hospitalised for 3 months. It was during his hospital stay that he rediscovered his love of music.
"I hadn't played the guitar for nearly 20 years, but over the past 7 months, I've gotten back into it. When I was hospitalised, I happened to have my guitar with me, so I picked it up and I've been playing ever since." said Wayne.
Music therapy is an important part of the recovery process for many mental health patients at Gold Coast Health, providing a focus, as well an outlet for creative expression.
"While I was in hospital, I was invited by Music therapist, Lani, to play in the GCUH music room, and I've been coming weekly for the last couple of months. Lani helps so many people through music, it's amazing.
"Playing the guitar has given me a whole new lease on life. It's given me something to do and it's nice to do something that others can enjoy. Music is good for the soul."
Wayne is one of our artists performing at this year's ArtBeat Festival held on Friday, 13 October 2023 in the Gold Coast University Hospital Parklands.
ArtBeat aims to de-stigmatise mental health by giving consumers a platform to express their experiences in their own way, offering a joyful space for the community to come together and have important conversations about mental health.
It's clear that Wayne wants to share his love of music with the community, and we're excited to see him take to the stage.
"At ArtBeat I'm most looking forward making people happy with my music and enjoying myself too," said Wayne
"Hopefully some of the staff that looked after me on the wards will be there. I'm a lot better than when they last seen me, so I'd like to share that with them."