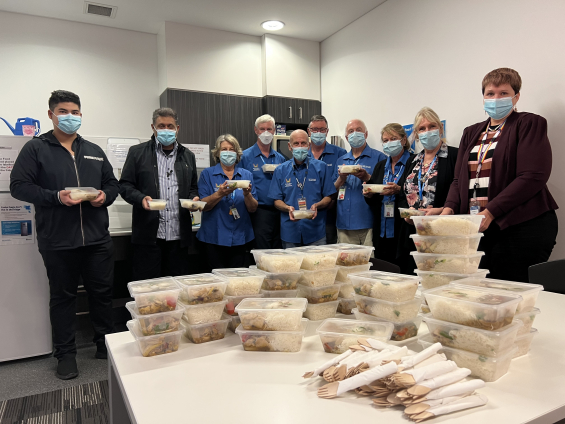 Our volunteer workforce was treated to 100 meals recently from the Multicultural Social Network, to acknowledge the great work they do for Gold Coast Health.
Founder and CEO Hussain Baba, and his son Kareem, visited Gold Coast University Hospital to deliver the meals, much to the delight of the volunteers there.
"The volunteers play a very important part in the running of the hospital, doing all kinds of work, and it's wonderful to acknowledge the hard work they put in," Hussain said.
The kind gesture also coincided with the start of Queensland Multicultural Month which runs throughout August, focusing on inclusivity and diversity this year.
Volunteer Manager Dale Tatterson said the meals were very much appreciated by the volunteer team, especially after experiencing such a challenging time with COVID-19 in recent times.
"It's always wonderful to have our volunteer team acknowledged for the work they do, especially given various challenges we've faced with COVID-19 and having a generally older and more vulnerable volunteer cohort," Dale said.
"Our volunteer numbers have been lower than we would like due to the pandemic, so if anyone is interested in volunteering at Gold Coast Health, please consider applying on our website."