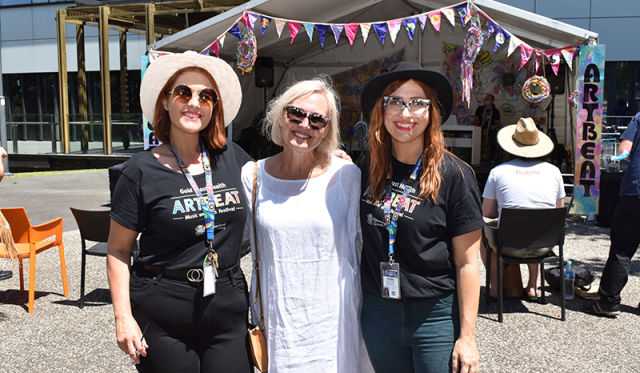 Gold Coast Health is celebrating the creative strengths of mental health consumers this Mental Health Week with the ArtBeat Music and Art Festival in full swing at Gold Coast University Hospital.
Since 2014, the annual arts and music festival has been central to raising mental health awareness within the Gold Coast Health community, shining a light on the artistic talents of consumers.
Mental Health and Specialist Service Executive Director Malcolm McCann said the 2022 Mental Health Week theme of 'Awareness, Belonging, Connection' was all about coming together.
"This theme emphasises looking after each other and being aware of the things that boost our wellbeing to maintain positive mental health," Malcolm said.
ArtBeat Music and Art Festival director Madeline Collins is delighted to be able to deliver the signature festival event in the Parklands on Friday 14 October.
"This event means a lot to our consumers who work months in advance to ensure their art is ready for the exhibition – they absolutely put their heart and soul into it," Maddie said.
"This year we have another exceptional range of artistic contributions from consumers who have a lived experience with mental health illness, so please support them by taking time to see their pieces and learn about their journeys.
"And make sure you take time out for the main event from 11am-2pm Friday so you can join in all the fun of live music, food, giveaways, face painting, free mental health information and more."
The ArtBeat Music and Arts Festival runs until Friday 14 October.