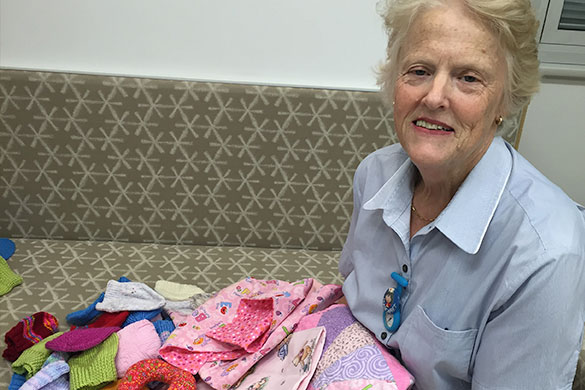 Margaret Alcock is the Gold Coast's link between premature babies adapting to their first days of life with caring women who love to put meaning into their craft.
When the long-time Registered Nurse and Midwife is not working shifts in the Newborn Care Unit (NCU) at Gold Coast University Hospital, she is visiting community groups telling them the best way they can help.
And they love to help.
Donors knit beanies, sew neonatal position pillows, small patchwork quilts, isolette covers to protect the tiny babies from noise and light, soft sheets and swaddle wraps.
Margaret is so successful at bringing the two groups who are at different ends of the life spectrum together, community liaison has become a part of her job description.
"The ladies all enjoy doing this work because they love babies and with the mention of premature babies there is even more love involved, so they are very keen to participate."
To ensure items are the right fit for NCU equipment, and the tiny patients, Margaret has developed patterns which she distributes to the groups and she coordinates suitable fabric, cotton and knitting supplies.
"Most of the time everything is suitable but sometimes they are not quite what we need so I try to let those people know so they are not going to be wasting their time, energy, love and wool," she said.
"Sometimes I can pass it on to another charity that needs them but I don't like to see anything wasted so with my contacts I have got some resources to be able to use and pass on things."
Margaret said many women were good at sewing and craftwork and wanted to feel useful.
"Most of them are mature women who are in retirement or perhaps in residential communities who like to be kept busy. They usually have a great stash of fabric and they love to be useful, especially assisting our local hospital which deserves support and we are very appreciative."
Among the volunteer groups who make regular donations are:
Country Women's Association of Gold Coast
Probus club
Legacy club
Catholic Women's League Gold Coast
Rotary clubs
Lions clubs
Soroptimist club
Church groups
Patchwork groups
Gold Coast smocking group
Gold Coast embroidery group.
GCUH employees and their families
Ex-patients and their families donating prem clothes
Many, many individuals
People interested in making items for the Newborn Care Unit should email Margaret.alcock@health.qld.gov.au