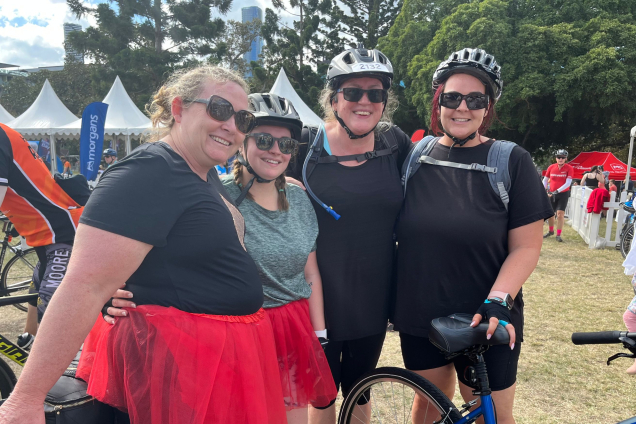 When you meet Gold Coast University Hospital (GCUH) Director Support Officer (DSO), Madelene (Maddie) Leverett you'll probably notice her fabulous hot pink eyelashes.
What you're unlikely to notice is that Maddie has Multiple Sclerosis (MS) – a disease of the central nervous system.
Maddie says, "It's a common misconception that people with MS are likely to be in a wheelchair."
Far from being confined to a wheelchair, Maddie has just added 'endurance cyclist' to her resume, with the help of work colleagues.
"Nursing Directors, Tracey Bishop and Claire Oliver had just come back from a charity ride in Thailand, and were super keen to continue with fundraising rides," Maddie said.
They encouraged Maddie, along with fellow DSO Bianca Bates, to join their 'Curls and Curves' team for the 25-kilometre section of Brissie to the Bay – The Ride to Fight MS, mid-June.
There was one major obstacle – and it wasn't Maddie's MS diagnosis, or her ongoing battle with fatigue and weakness in her legs.
"I hadn't been on a bike since I was a child. I didn't even own a bike," Maddie said.
With little training – or rather, no training at all – Maddie took on the mountainous challenge, surrounded by her supportive colleagues.
"Everyone warned me about the hills, but I wasn't prepared for them. There were a lot of hills," she said.
"Tracey had an electric bike that she was trying to palm off on me. But I refused.
"Hearing my daughter's voice call out 'Mummy' as I crossed the line was incredibly exciting. I was so proud of myself because I've never done anything like that before."
Claire adds, "To see her family there at the end, there were tears. Once you've accomplished it, you feel invincible."
You could forgive Maddie for her lack of preparation for the ride when you learn what she is juggling daily; full-time work, the demands of raising two young children and Coeliac Disease, not to mention MS symptoms.
So, why add fundraising and cycling to the list?
"MS Queensland has been the most amazing support for me," Maddie said. "The charity's vision is that no Queenslander faces MS alone."
"Hand on heart, I can say that I have not felt alone in this journey. They have been so supportive."
Curls and Curves raised more than $1,300 to say 'thank you' to MS Queensland for supporting Maddie from Day 1, following her diagnosis in 2019 when she temporarily lost vision in her right eye.
"I kept asking people, 'Is there something in my eye?' They kept saying that it must be an eyelash."
In fact, Maddie's optic nerve was inflamed - a common symptom of MS.
"I had been falling over a little bit and losing my balance, which was terrifying because I had a young child," she said.
"I was holding my daughter once and I fell over quite badly, and we were both hurt."
Immediately after diagnosis, Maddie fell pregnant with her second child.
"Specialists had advised that pregnancy can keep MS at bay, so if I was wanting more children, it would be the best time to try. But, in the end, my treatments during pregnancy weren't effective."
She eventually started a form of chemotherapy, receiving eight-hour infusions for several days, over two years, which has dramatically slowed the progression of the disease.
"Since then, I have had no new lesions on my brain, which means the treatment is working," Maddie said.
"Now I have a dedicated Occupational Therapist (through MS Queensland) who phones me twice a fortnight, to check in and see if I have any new symptoms and if they can help in any way.
"They make sure I can stay in my job at GCUH, and stay active, for as long as possible."
Maddie's refusal to wallow in self-pity and 'look unwell' creates another problem.
"That's the worst thing about having MS. People tend not to believe you when you say, 'I'm not feeling well today.'"
It has made her reluctant to use a blue Disability Parking Permit, fearing people will question why she has one.
"Do I need to walk around with no make-up on, with dirty hair and clothes for people to believe that I'm struggling," she said.
"Hidden disability is such a big thing. There's not a lot of awareness.
"Anyone can have MS. People can be unwell and still look well."
Claire chimes in, "She's amazing. If she had never told me, you wouldn't have known."
"I can understand that when people don't see the physical issues, it can be quite challenging."
To help raise awareness of hidden disabilities, Maddie wears a sunflower lanyard.
"It's a way of letting people know that you may require extra assistance. If they see that I've fallen over, for example, and they see the sunflower lanyard, they will know that I have a hidden condition," she said.
Gold Coast Health supports the Sunflower Lanyard scheme.
Diversity and Inclusion manager Jed Shiels says, "Gold Coast Health looks forward to expanding the program in 2023, alongside building our workforces' capability to respond to those with an invisible disability."
He encourages anyone at Gold Coast Health who wants more information about the lanyard to email diversityGCH@health.qld.gov.au.
"It warms my heart because they are so understanding," Maddie says of her Gold Coast Health and GCUH colleagues, as well as her MS Queensland team.
"To have a group of people around you every day who are so supportive is an amazing feeling."