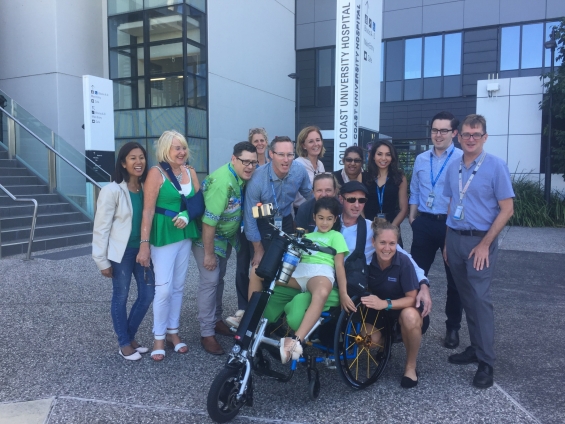 Gold Coast man David Conway has paid tribute to the clinicians, nurses and allied health staff who assisted in his extraordinary recovery from a traumatic injury.
David was discharged from Gold Coast University Hospital on 16 March after nine months of treatment and rehabilitation from injuries sustained in a fall from a seven-storey construction site.
GCUH Trauma Services Director Dr Martin Wullschleger said the Irishman's injuries were the most critical he had seen in 20 years.
"Initially we thought it was internal bleeding from his abdomen and pelvis. But then it also turned out to be serious chest injuries and he ruptured his heart as well.
"We were pretty shocked, we weren't even sure if he was even going to make it."
Coordination and communication between the ED and trauma teams, surgeons, anaesthetists and theatre staff was key to a positive outcome, Dr Wullschleger said.
David underwent 37 operations, required 82 litres in blood transfusions, spent two months in an induced coma and hundreds of hours of physiotherapy and occupational therapy after his legs were amputated below the knee.
Staff gathered to farewell David who described his care as world class.
"You would wonder why if a person came in with such a bad condition like that, you'd wonder why they would bother," he told the Gold Coast Bulletin.
"They're amazing people to say 'look, let's give this a good crack'. They're just passionate about their jobs."
Dr Wullschleger said cases like David's were particularly rewarding.
"It's very exciting to have got him through this journey and for his day of discharge to be here."
Last year in a truly impressive first, the Royal Australasian College of Surgeons (RACS) recognised the Gold Coast Health trauma service as world class.