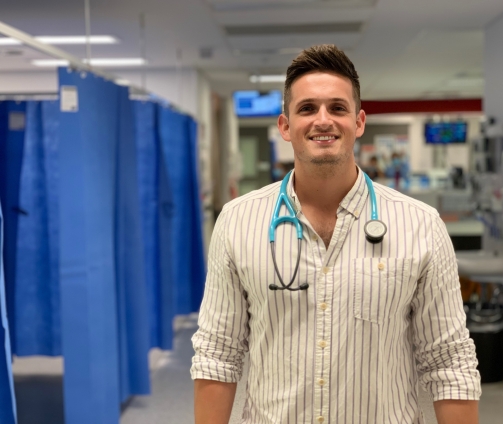 Violence and threatening behaviour occur regularly in our Emergency Departments with as many as 10 Code Black activations per day, which are often a result of threatening, intimidating or violent behaviour directed towards staff.
Emergency Department Registrar and Fellow of the Australasian College of Emergency Medicine, Dr Alex Joyce, hopes to reduce this.

By examining over 40 data points from previous incidents and exploring the variable factors that lead to code blacks (e.g. presenting complaint, comorbidities, intoxicants, wait times), Dr Joyce and his team aim to pinpoint risk factors that may lead to escalation.

"While we know a hospital setting can create extreme levels of stress for patients, their families or friends, it's never okay to show verbal or physical aggression towards our staff," Dr Joyce said.
"We may have code blacks, but we also have many other instances of rude and combative behaviour which often goes unreported. This can make a tough job even harder."

While the reasons for violence in our Emergency Departments can include medical causes such as dementia or delerium, it is often due to illicit drug use, alcohol or mental health issues — and sometimes a combination of all three.
"The consequences of these incidents can be far-reaching, from psychological and physical injury for staff, adverse outcomes for the patient and increased resource consumption in a resource-scarce environment," he said.

"A patient who has suffered serious trauma or a life-threatening medical issue may have staff diverted to handle a behaviourally disturbed or violent patient.

"We hope to fine-tune our processes and frameworks for early intervention to help reduce the likelihood of escalation so that our staff can safely get on with caring for the community."