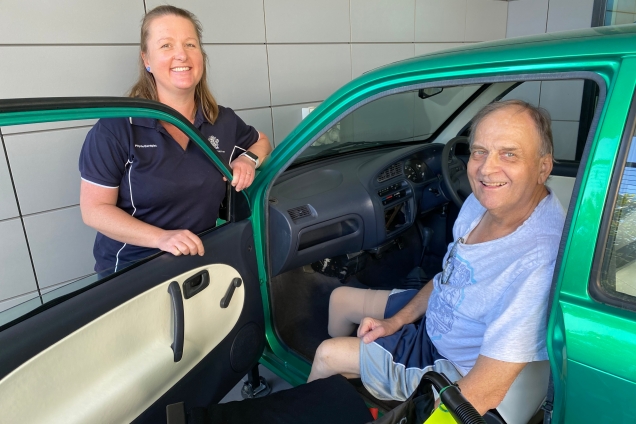 A little green Daihatsu is making a big difference to Robina Hospital rehabilitation patients who need to learn how to get in and out of a car again after injury or illness.
Dolores was refurbished and modified to fit into the hospital's lifts for transportation to her new home on the rehabilitation therapy gymnasium on level two.
Physiotherapy staff won a $25,000 Gold Coast Health Improvers innovation grant to deliver the project.
Project lead Ali Longmire says since being installed on the ward, "Dolores" had become instrumental in giving patients the confidence to carry out important tasks like grocery shopping and driving to their GP.
"Previously we would have to book a vehicle through the hospital booking systems, drive the fleet car over to the hospital and walk the patient downstairs. Now the same training is just a few steps away," Ali said.
"Not only does this promote better health outcomes but it also means we can capitalise on the co-location of the 'Life Space' mock grocery store on our ward, so patients can practice carting their groceries to their car and loading them in etc.
"We tend to take the ability to do these types of tasks for granted but they really are key to maintaining the independence and wellbeing of our patients."
Therapy patient Jerry Antoniuk is due to go home at the end of June after a leg amputation in May. Jerry attributes much of his mobility to the hospital's therapy facilities and the expertise of allied health staff.
"Being able to get in and out of a car is really important and having one in the gymnasium has given staff more capacity to support my therapy progress with reviews and adjustments," Jerry said.
"I've come a significantly long way. The whole team that has looked after me have been exceptional."
Allied Health Executive Director Sara Burrett said the therapy vehicle had become a key part of the rehabilitation process for patients.
"Dolores might be a little car but she is making a big impact on our efforts to help patients get well so they can get back on their feet after suffering an illness or injury," Sara said.
"I am always impressed by our allied health team's ambition to make a difference to our patients lives and this therapy car project is another great example of that."