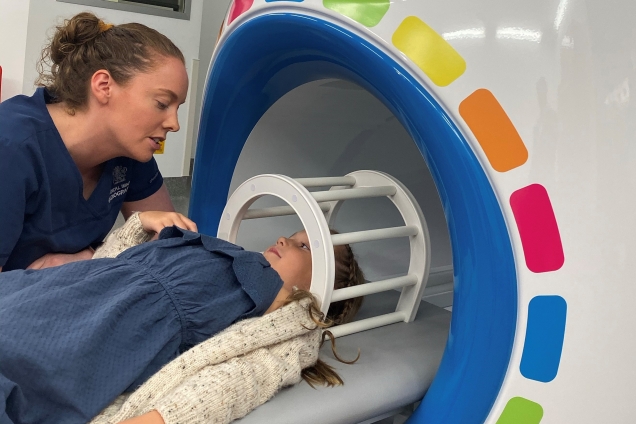 In an Australian first, a galactic-themed simulation experience is preparing young Gold Coast Health patients for stress-free CT and MRI scans through play.
Central to the experience in Gold Coast University Hospital's medical imaging department is a 'rocket-ship' designed to familiarise patients with the MRI/CT scan equipment and processes.
The initiative has been driven by Gold Coast Health Radiographers and Occupational Therapists to reduce scan anxiety and the use of general anaesthetic for kids between 3 and 15 years of age.
Radiographer Caitriona Quinn said the simulator would become an important part of the process for hundreds of paediatric patients requiring vital scans as part of their treatment each year.
"A CT or MRI can understandably be daunting for children, particularly when they are required to lie still for up to 30 minutes to complete a diagnostic MRI scan," Ms Quinn said.
"Previously, sometimes a general anaesthetic has been the only way to manage young patients who become overwhelmed and cannot stay still during their scans. We wanted to reduce the need for general anaesthetic and sedation to get good pictures.
"So, we put out heads together with the Child Life Therapy team and successfully secured funding for the machine from Gold Coast Health's 2018 Improvers staff competition."
Much like in a real scan, children lie down on a bed before being slid into the rocket ship dome where they can practice laying still and looking up at a movie playing inside the simulator. The machine detects and reflects any movement in a visual representation so the children can see how still they are staying, and the simulator makes the same noise as the real MRI machine.
"It's a great opportunity for the child or their parent to ask questions about the real scan so they know exactly what to expect on the day of their real scan," Ms Quinn added.
To further promote a positive experience for patients and their carers, space themed murals wrap the walls of the rocket ship room creating a playful, fun environment. The room is also home to a 3,000-piece toy MRI model donated by Dreamworld's LEGO store children can play with.
Allied Health Services Executive Director Sara Burrett commended staff for thinking outside the box to deliver patient-centred care for paediatric patients, some of whom are often very unwell or feeling uncertain about their treatment.
"We know distraction therapy is a very effective means to fostering a sense of security and safety in young patients," Ms Burrett said.
"We are really thrilled to be able to use this resource to support a better experience and health outcomes for patients and their families."