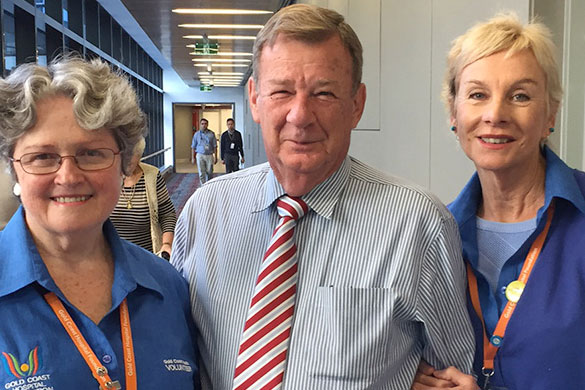 Almost every day for the past 16 years, Ian Langdon has wondered what the future holds for his autistic grandson, Ky.
So the Gold Coast Hospital and Health Board chairman makes no apologies about his drive to make his organisation one of the biggest equal opportunity employers in Queensland.
With more than 8000 staff, Gold Coast Health is the largest employer on the Coast.
But Mr Langdon said the organisation left a lot to be desired as an employer of disabled workers and has vowed to turn things around so the future of young people like Ky is more certain.
"Just growing up with him - my daughter and her husband and family live up on Mount Tamborine so we're close to them - I see the enormous pressure that is put on families when they have children with disabilities," he said.
"Those pressures don't disappear as they get older – they get greater, they really get greater.
"What happens to them?
"What sort of work are they going to do?
"I am determined to see that as an organisation - the largest employer on the Coast - we do our fair share in terms of providing employment opportunities for people with disabilities."
The former Dean of the Griffith University Business School said that already Gold Coast Health had a partnership with EPIC Assist, a specialist job provider, in an attempt to better accommodate disabled workers.
With only two months left as Chair of the Queensland Health Board Chairs Forum, Mr Langdon said he saw a chance to make a real difference to the culture of healthcare throughout the state.
"I use my position as Chair of the Chairs Forum to promote this across the whole of Queensland," he said.
"You have to walk the talk."
This article originally appeared in the Gold Coast Bulletin. Mr Langdon was named inaugural Chair of the Gold Coast Health Board in 2012 and was recently reappointed for another four-year term.