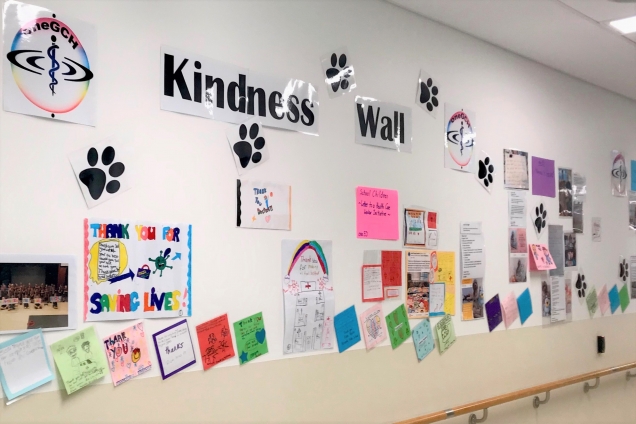 Have you heard of The Pandemic Kindness Movement? As the name suggests, the intention of the clinician-led project is to 'spread only kindness' and support the wellbeing of the health workforce. In this article, we learn about the PKM, and how Gold Coast Health's home-grown version of the gratitude movement rose to the surface during the swell of COVID-19.
The Pandemic Kindness Movement or PKM, has been driven by a desire to support all health workers during COVID-19 with evidence-based resources to help promote their sense of wellbeing. These resources were modelled on an adaptation of Maslow's hierarchy of needs that considers the potential evolving challenges of the pandemic on the health workforce.
The PKM has been endorsed by various state bodies in Queensland, South Australia, NSW and Victoria. Gold Coast Health Emergency Physician Dr Shahina Braganza is among the handful of clinicians who has collaborated on the PKM.
As Dr Braganza explains, the PKM was the brainchild of Melbourne Paediatrician Dr Jane Munro.
"Dr Munro galvanised a small group of clinicians and other health workers with an interest in staff wellbeing, and we partnered with the Agency for Clinical Innovation (NSW Health) who converted our passion and efforts into something tangible by way of a website."
Prior to the PKM becoming official, Gold Coast Health had started similar efforts, with the health service establishing Staff Wellbeing Hubs and other initiatives, which reiterate to staff that their own wellness is a priority.
In the Gold Coast University Hospital and Robina Hospital emergency departments where Dr Braganza is based, random acts of kindness are the norm, and have come in many various forms.
"We've certainly seen those activities ramp up during the pandemic, largely because community groups were desperate to support us as health workers - to feel like they were contributing to the COVID-19 effort," she said.
"From coordinating sewing groups, to rationalising donations of snack foods, and managing the delivery of cards from local school students for our "oneGCH Wall of Kindness", a lot of effort has gone into promoting the generosity of giving and receiving."
As Shahina rightly points out, the Pandemic Kindness Movement is important at every point in time.
"Our experience with COVID-19 has simply brought us the opportunity to bring it front-of-mind and for our efforts to before more overt. Connection, to me, is at the core of any act or effort to promote wellness.
"Acts of kindness can give us the licence or the conduit to connect with each other, creating that sense of belonging and of community that become our safety net both practically and emotionally".
Dr Braganza said the pandemic had also created opportunities for staff to connect through the sharing of appreciation for each other's efforts which may have not been vocalised under 'business as usual' circumstances.
"COVID-19 has highlighted to us just how true and real this is. Our environmental service staff are indescribably vital to our operations currently. We have more control now, but in the early days of this pandemic, we had less information and higher perceived risk," Dr Braganza said.
"Our environmental and porterage staff worked with courage and diligence to help us care for patients, putting themselves on the front-line in order to get the job done and keep our workspaces functioning and safe. I don't know how we could ever properly express our gratitude to them.
"There have been some unexpected silver linings to come out of this murky and uncertain time. I would love to see Staff Wellness remain a priority for each of us, our teams and our organisation into the future."