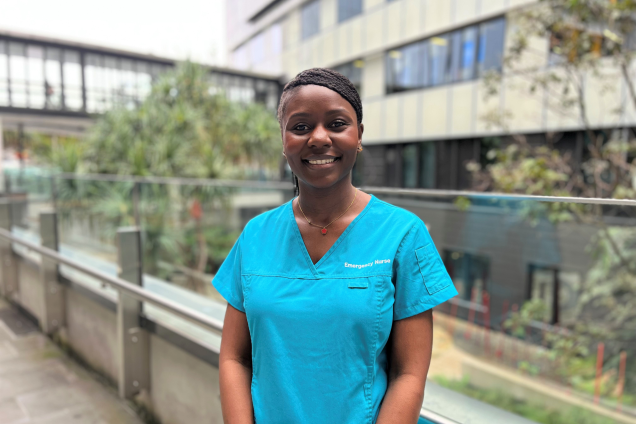 Miriam Musumba's amazing life journey has taken her from Kenya to the Gold Coast via Malaysia and outback Queensland.
The emergency nurse's compassion, warmth, and bubbly personality are unmistakable; she embodies the values of Gold Coast Health.
Born and bred in Nairobi, Miriam was, in her words, "born to be a nurse". The eldest of five children - all girls, including triplets – she took to the role of nurturer with ease.
"My mum had her hands full, so I had to be independent," Miriam said. "But it was the most wholesome experience that I could ever wish for - a full house, plenty of love and big laughter. It put me in that mindset of being someone who takes care of others."
She was inspired by her grandmother and two aunties, all nurses, who would attend to the family's health needs at home.
"The knowledge they carried to be able to help people was amazing to me," she said.
When Miriam was 18, her family moved to Malaysia's capital, Kuala Lumpur where the five girls certainly turned heads.
"We were the main attraction," Miriam said, letting out a hearty laugh. "Everywhere we went, people would pull out their phones and take photos. Everyone wanted to sit next to us. It was crazy, but it was fun."
Having admired Miriam's hands-on involvement with her younger sisters, it was her father who suggested a career in health care.
"He knew what I would become before I did," said Miriam.
She took the bold step of migrating to Australia to study nursing in Toowoomba.
"My dad wanted me to slowly inch my way into Australian life instead of the culture shock of moving to a big city," she said.
She went on to grapple with the Aussie slang and grew in confidence as a nurse in rural areas.
But it was a move to the busy Gold Coast University Hospital Emergency Department that would have the biggest impact on her career.
"Moving to the Gold Coast has helped me broaden my knowledge and grow to become a better nurse," she said.
Two of her triplet sisters are also nurses in Australia, lured by our beaches, sunshine, and opportunities for learning.
During Multicultural Queensland Month 2023 in August, Miriam is feeling grateful for the support she receives in her challenging role and ongoing education.
"I'm grateful that I get to live out my dreams," Miriam said. "It's a message to little girls who have dreams they may think are unattainable. If you work at it, you will get it."