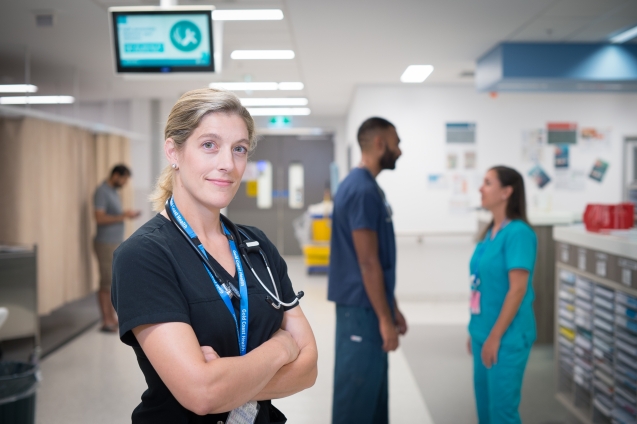 Gold Coasters with non-life-threatening conditions are being urged to consider other options for medical care instead of going to public hospital emergency departments.
Last financial year, the emergency departments of Gold Coast University Hospital and Robina Hospital treated more than 164,000 people.
Dr Katie Gallop, a Gold Coast Health Emergency Department Staff Specialist, said nearly 30 per cent of attendances in Gold Coast emergency departments were for non-urgent conditions.
"Only a small number of these people are admitted to hospital from the emergency department," said Dr Gallop.
"A reduction in the number of non-emergency cases will reduce waiting times for those with very serious or life-threatening illnesses and injuries."
Gold Coast Primary Health Network CEO Matt Carrodus said hospital emergency departments should be kept free for people who really need them.
"Minor injuries and illnesses are contributing to longer wait times in public hospital emergency departments," said Mr Carrodus.
"The Gold Coast has a number of options for fast and efficient medical services including many that bulk bill."
He said instead of going to the hospital for non-emergency treatment, Gold Coasters should firstly consider if this is the best option or if they should see their regular GP, use an after-hours medical service or call a home doctor.
If people are unsure of the appropriate healthcare action they can go online to check their symptoms or seek advice from a registered nurse by calling 13HEALTH (13 43 25 84).
Mental Health services are available at 1300 MH CALL (1300 642 255). All services are available 24 hours a day, seven days a week.
"In some instances, treatment may be quicker and more comfortable than waiting at hospital emergency departments," Mr Carrodus said.
In Queensland public hospitals between 1 July 2017 and 31 January 2018, there were more than 360,000 presentations that could have been treated by GPs or pharmacists including:
more than 38,000 sprains or strains
more than 1,800 prescription refills
almost 1,500 requests for medical certificates
more than 2,700 splinters
213 cases of sunburn
12 common colds.
almost 6,500 ear infections
almost 4,000 ED urinary tract infections
more than 3,300 cases of tonsillitis
more than 1,000 blisters
more than 750 nose bleeds
more than 370 muscle cramps
almost 100 warts
almost 70 cases of chlamydia
almost 40 cases of gonorrhoea
more than 30 ingrown nails
three cases of hiccups