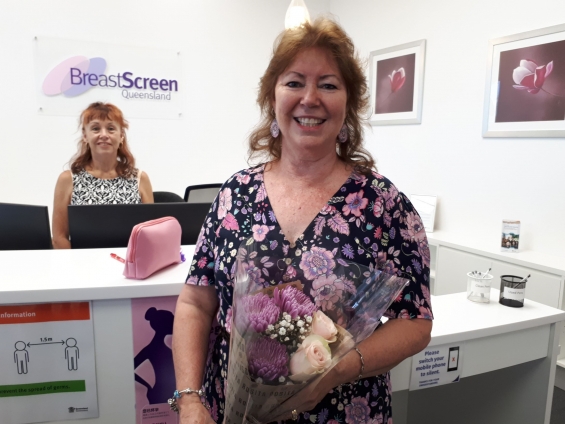 Grandmother of five, Debbie Kelly, recently celebrated an exciting milestone with BreastScreen Queensland team members. Debbie was the 4000th client to attend a free breast screen at Robina Town Centre since the BreastScreen Queensland clinic opened last year.
After putting off having her first breast screen, it was Debbie's doctor who encouraged her to arrange an appointment, which she booked online. Pleasantly surprised how quick the procedure was, Debbie found the breast screen much easier and less uncomfortable than she had expected.
"If I had known this, I wouldn't have put it off for so long," Debbie said. "The clinic was easy to find, parking was easy, and the woman who conducted the test was friendly and made me feel at ease."
"It's worth sparing a few minutes for this test that could help save you from a worse scenario later," she said.
A screening mammogram (breast screen) helps save lives by finding breast cancer early when it's easier to treat.
Women aged 50 to 74 are recommended to attend a breast screen every two years. Women without breast cancer symptoms can access the free BreastScreen program from the age of 40.
Having a breast screening clinic at Robina Town Centre has helped more locals attend this valuable health check. One-in-five clients screened at the Robina clinic so far have visited BreastScreen Queensland for their first time.
BreastScreen Queensland is offering extended opening hours at Robina one Thursday in April, in addition to regular Saturdays, to make it even easier and more convenient for local women to attend.
Eligible women can book a free breast screen appointment at their preferred BreastScreen Queensland clinic by phoning 13 20 50 or visiting breastscreen.qld.gov.au