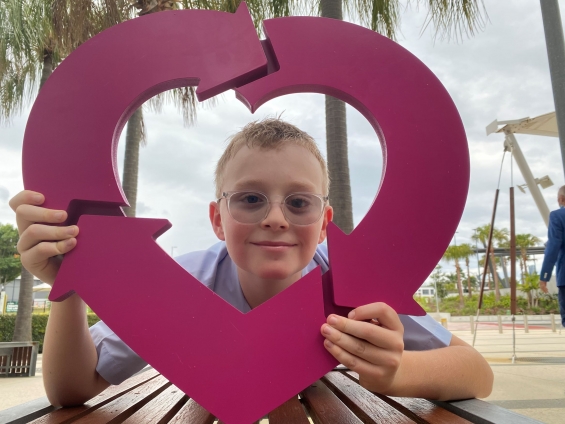 Southport mother Melissa Eckersley is urging Gold Coasters to register as an organ and tissue donor, having experienced the difference this selfless act has made to her son's life.
Eleven-year-old Oscar was diagnosed with congenital glaucoma when he was six months old.
"He was born without the drainage system in his left eye, fluid gets trapped in the eye which causes irreversible damage to the optic nerve and vision loss," Melissa said.
Congenital Glaucoma can only be treated surgically and managed with drops. Oscar has been to theatre more than 20 times since he was diagnosed.
"When Oscar was three his glaucoma became very aggressive and he needed a Baerveldt Implant grafted to his eye. This is attached using donor eye tissue called sclera (the white of the eye). The donor sclera on his first implant split after one year and the implant needed to be removed due to the risk of infection," Melissa said.
"We had to delay the surgery to remove the implant for 48 hours as there was no donor sclera in the eye bank. This was extremely stressful as we were fighting around the clock to save his eye."
Melissa said her family was exceptionally grateful the Baerveldt Implant provided them with some hope of saving some of Oscar's sight.
"We were however taken aback when we learned that it was only possible to have the implant using donated human eye tissue," she said.
"Using donor eye tissue brings a plethora of emotions as a parent. You always think of the donor and their loved ones, it's a wonderful gift that we are forever grateful for.
"We have been very open with Oscar and for the past few years and educated him that the surgeries were only possible due to the generous donation of eye tissue. With each donation we have sent the donor family a card via DonateLife to express our sympathy and gratitude.
"I want the families to know that their loved one's selfless decision has had such a profound impact on my son and our family's lives. It's hard to put into words as thank you is not enough."
While his left eye is now classed as legally blind, the tissue donations have allowed Oscar to retain what sight he had left in his diseased eye.
Ahead of DonateLife Week (24 July-1 August) Gold Coast City Mayor Tom Tate urged residents to consider the positive impact organ and tissue donation could have on the community.
"Our city is famous for its generous spirit and community values," he said. "I call on Gold Coasters to join The Great Registration Race this DonateLife Week and register as organ and tissue donors. Talk to your family so they know your wishes. Helping others in this way not only gives them a better quality of life but helps their loved ones as well."
Gold Coast Health donation specialist nurse coordinator Amanda Leitch urged Gold Coasters to check if they were registered, even if they thought they were.
"Some people think that they're registered through our old driver's licence system, but the fact is they might not be," Ms Leitch said.
"So we're urging everyone to check they're registered by simply grabbing their Medicare card and jumping online at www.donatelife.gov.au, it only takes one minute to check and register but can change someone's life in an instant."
Did you know?
While 9 in 10 Aussies support donation, only one in 3 are registered.
About 1 800 Australians are on the waitlist for an organ donation. A further 12,000 are on dialysis, some who may benefit from a kidney transplant.
About 13 million eligible Australians are not currently registered to donate.
In 2020, 1,270 Australian lives were saved through an organ transplant due to the generosity of 463 deceased organ donors and their families.

External Link
www.donatelife.gov.au