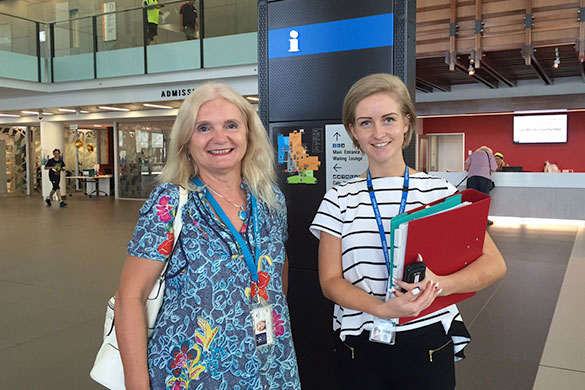 Gold Coast Health is delivering more interpreting services than ever before, leading to better quality health care for patients with limited English.
As Interpreter Services Coordinator, Jennifer Babin is responsible for matching patients from non-English speaking backgrounds, deaf or hearing impaired, with an interpreter.
"Using interpreters improves quality of care and patient safety however also brings many business efficiency benefits to the health system" she said.
Some of the benefits are:
A decrease in readmission rates and length-of-stay in hospital
Prevention of miscommunication resulting in better time efficiency for clinical staff and limiting risk of hospital litigation
Cost savings in unnecessary diagnostic testing and procedures
Improving safety and reducing adverse events
Facilitation of accurate diagnosis
Improvement of patient/client understanding and compliance with medication instruction and treatment plans
Staff members are trained to identify patients who struggle with English and request an interpreter.
"When a patient with no or low English proficiency is identified, the staff member will flag the patient in the hospital system so that clinical staff know to engage an interpreter for future patient encounters" Ms Babin said.
Gold Coast Health has 24/7 access to interpreters fluent in more than 150 languages.
In 2015, the service received 8141 requests for an interpreter, which is almost a 10 per cent increase on 2014.
The most in-demand interpreters are for languages:
Mandarin
Cantonese
Korean
Japanese
Bosnian
Serbian
Between 2006 and 2011, Australian Bureau of Statistics data showed a 22 per cent population increase in the Gold Coast region that 'speaks another language and speaks English not well or not at all'.
Face-to-face interpreters are the preferred method, however if one is not available to be on-site, either a video-conference or telephone interpreter will be used.
"The use of video conferencing instead of phone interpreting results in better flow of communication and better quality communication due to retaining visual cues," Ms Babin said.
The interpreter service is provided free of charge to patients.
Gold Coast Health is undertaking a project to contract interpreters in the following languages - Mandarin, Cantonese, Japanese, Korean, Bosnian and Auslan (sign language). The project aims to improve the responsiveness, cost-efficiency, quality and supply of interpreters for the health service.